What is Volumio? It is an integrated music app for an audiophile music player, specialized in playing music with bit-perfect quality. It is free, open-source and perfectly running on most embedded devices such as Raspberry Pi, Odroid, Beaglebone, Cubieboard, etc. and any common PC.
Speaking of Hi-Fi or Hi-Res streaming music, Tidal is the first one that comes to my mind. And I believe that many music lovers have the same answer as me. So, can we listen to Tidal on Volumio directly?
In this article, I will share 2 ways to play Tidal on Volumio, one is free of charge and the other one needs to pay a sum of the subscription fee. Just check these 2 ways according to your needs.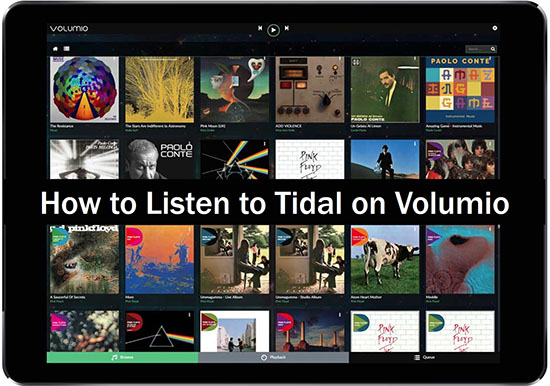 Part 1. How to Control Tidal on Volumio by AudFree
Let's start from the method which doesn't need to pay subscription money. Volumio supports users to import local music for playback. In other words, if it is possible to download Tidal music as local audio files, it is free to add and play Tidal on Volumio.
To get started with this method, you need this powerful converting tool, which is called AudFree Tidal Music Downloader. Proficient in breaking DRM limits from Tidal tracks, this versatile software ranks NO.1 in the field of Tidal music downloaders and converters, converting any Tidal audio file to MP3, FLAC, WAV, AAC, M4A, M4B, and such kind of common formats with 0% quality loss. Metadata such as artist, album, title, etc. are encapsulated and well stored in the converted files, which enables you to order those tracks as your requirements.
Moreover, this versatile tool is a kind of music editor, being able to modify music output parameters, such as output format, bitrate, sample rate, and so on. Taking the advanced processing function, the program is capable to load and convert 100 tracks once a time at 5X faster speed. By using this breakthrough product, you will get a smooth experience to add and play Tidal in Volumio, which is absolutely worth a shot.
Part 2. How to Stream Tidal on Volumio: Step by Step
Please check the prerequisites as follows before the conversion.
Download AudFree Tidal Downloader on your PC.
Uninstall the pre-installed Tidal app and reinstall it from the official website instead of the Windows Store.
Step 1

Input songs from Tidal to AudFree

Turn on AudFree Tidal Downloader. The Tidal app will be opened and then log in to your Tidal account. Find and copy the URL of the track or playlist and paste it to the search bar in AudFree. Then hit on the '+' button to add them into AudFree.
Step 2

Reset output settings of Tidal songs for Volumio

For Windows users, please click the menu icon on the top sidebar of AudFree. For Mac users, please find the "AudFree Tidal Music Converter" on the menu bar of the Mac. Then select "Preferences" > "Convert". A settings page will pop up for you to customize the output options such as format, bit rate, sample rate, channel, etc.
Step 3

Convert Tidal track to local files for Volumio

Tap on the big 'Convert' button in AudFree. Then the conversion will start. The length of converting time depends on how many tracks on the list. Please follow the on-screen prompts to access to the target folder after the conversion.
Step 4

Stream Tidal to Volumio via USB

Now please stream the local Tidal music files to a USB stick, an SD card, or any mobile hard disk. Then add it to Volumio. Or mount NAS drive shares (CIFS & NFS) to store your local Tidal tracks. Then let Volumio scan the audio contents in it. You can refer to this page for more details.
Tips: How to Play Tidal on Volumio via MyVolumio
MyVolumio is the premium feature of Volumio. Both of them are natively integrated with Tidal and Qobuz. That is to say, just choose and subscribe one of the plans, Virtuoso (€2.99/month and €28.99/year) or Superstar (€6.99/month and €66.99/year), and you can enjoy those two streaming services with their Hi-Fi and Hi-Res quality in MyVolumio.
How to Access Tidal via MyVolumio
Step 1. Download MyVolumio from here. Or just update your Volumio app to the version 2.501 onwards.
Step 2. Sign in a new MyVolumio account. Or you can create it from myvolumio.org or from the user's interface in the Volumio app.
Step 3. On the profile page, please choose "Upgrade your Plan" and select your favorite subscription plan: Virtuoso or Superstar.
Step 4. Sign in or register an account on the ickStream Music Website.
Step 5. After that, Tidal and Qobuz will show on the My Music section. And then you can enjoy all the premium functions of MyVolumio, such as remote control of the device, automatic backup and sync, and so forth.