Tidal's popularity has been rising exponentially owing to its vast and diverse music library. The high-quality music library is a great music resource for aspiring DJs. However, the music encryption hinders Tidal DJ activity.
Now, the question arises that can you use Tidal streaming service to DJ? With a little outside help, yes. Various DJ apps compatible with Tidal are now available, and here we will list the top 3 to help you along.
In this article, we will also list the step-by-step tutorial on how to add song from Tidal to DJ and start DJing right away. Follow our lead.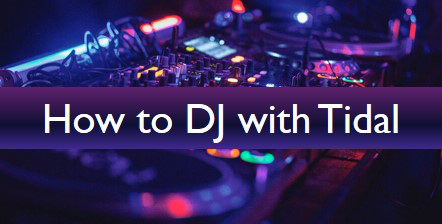 Part 1. What DJ Apps Are Compatible with Tidal
Can you use Tidal to DJ? Yes and no. Since Tidal doesn't offer an in-built DJ software, you will have to use third-party DJ apps compatible with Tidal. Luckily, there a few great options to choose from.
Here, we have rounded up the top 3 Tidal DJ apps. Read ahead and take your pick.
1. Tidal | SERATO DJ
Out of the few DJ apps compatible with Tidal, Serato DJ takes the lead. If you are a beginner just starting your DJing career, this is your best bet. With a practice mode that makes the DJing process easy and intuitive, Serato is an excellent choice for amateurs.
You can easily add song from Tidal to Serato DJ and never run out of songs to mix. Serato also allows two tracks to be mixed at the same time using pitch bend, scratch, nudge, etc. The cue points tools allow easy and quick access to specific parts of the audio.
Audio loops can also be created. You can further enhance your listening experience by adding sound effects and unique transitions. The Serato Sync feature can lock the tracks together to give perfectly harmonious grooves.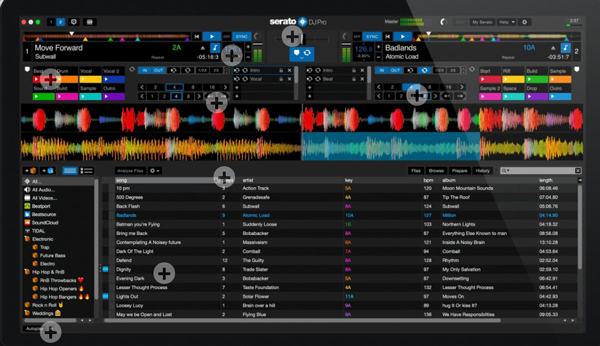 2. Tidal | ALGORIDDIM
A great tidal DJ tool is Algoriddim that allows easy and powerful audio mixing. An intuitive interface coupled with an automix AI makes this Tidal DJ software highly favored among beginners. The colored waveforms in high-resolution further make the audio mixing process more seamless.
Algoriddim allows users to easily connect Tidal to DJ and stream a huge variety of songs. With the Hi-Fi sound option, Algoriddim ensures professional quality audio. There is also an in-built music video player. There are up to 4 decks, cue points, and FX effects to render your music experience flawless and refined.
Moreover, Algoriddim is compatible with various devices, including Android, Windows, Mac, and iOS.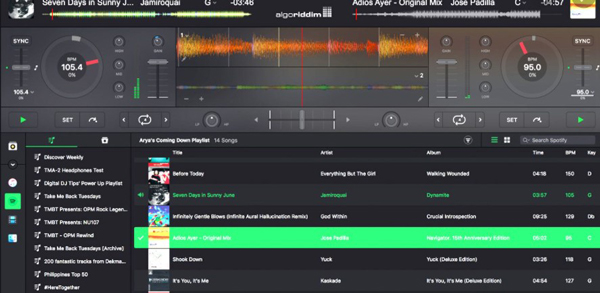 3. Tidal | REKORDBOX
Rekordbox is a very intuitive Tidal DJ app packed with a multitude of powerful features. Among other apps compatible with Tidal, Rekordbox takes lead owing to the special effect library as well as the visual effects. The music and visuals can be optimally synced to give the best DJing experience possible.
You can work on various devices and sync your work through the cloud library management. The Related Tracks option displays the song that best matches the currently playing song, making it easier to maintain the rhythm. Adding tags can also help filter the tracks according to preference.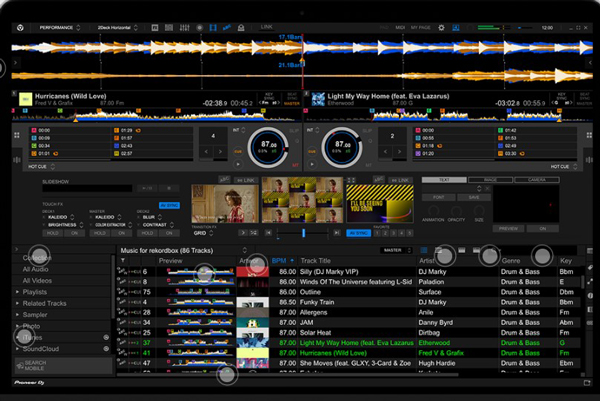 Part 2. How to DJ with Tidal Directly
After selecting the Tidal DJ app, you can easily learn how to add song from Tidal to DJ. Here, we will use Serato DJ Lite as an example. However, the process to connect Tidal to DJ app is somewhat similar in all, with minor interface variations. Let's dive in.
Step 1

DOWNLOAD SERATO DJ

Download and install the Serato DJ Lite or Pro version, depending on your need. Launch Serato DJ.
Step 2

CUSTOMIZE MUSIC STREAMING SETTINGS

In the top right corner, click on the Settings icon. Click on the Library + Display tab. Under the Music Streaming option, tick the Show Streaming Services. All your music streaming platforms will then be displayed. Tick the Tidal option.
Step 3

USE TIDAL IN SERATO DJ

Log in to your Tidal account. Now go back to the main interface. Here, your Tidal music will be displayed and ready for mixing.
Part 3. How to Use Tidal to DJ Offline
Do you wish to use Tidal DJ offline? To use the Tidal DJ software even when you are offline can be achieved by first downloading the Tidal songs to the local drive. Since Tidal music files are digitally protected, you cannot stream Tidal files without converting them to a commonly compatible format. To help with that here is an amazing tool.
The AudFree Tidal Music Converter is a very powerful music files downloader and audio format converter for Tidal. It converts the files into various formats, including MP3, FLAC, WAV, etc. At a 5X faster conversion, the original audio quality is still retained lossless. AudFree also retains the metadata and the ID3 tags.
With this powerful tool, you can also organize your converted audio files with respect to the artists and albums. The downloaded Tidal files can be transferred and used on a wide range of devices from smartphones to game consoles. This converter is also compatible with Windows and Mac systems.
Step 1

Download AudFree Tidal Music Converter

In the first step, download and install the AudFree Tidal Music Converter on your system. Launch the app.
Step 2

Import Tidal Music for DJ Software

Then, on the opening interface, there are an easy ways to import the Tidal music to the AudFree Converter. You can easily copy-paste the link/URL of Tidal tracks into the search bar on the top. And then click the '+' button to load them.
Step 3

Customize Tidal Output Settings for DJ

Now that you have imported the music into the converter, you can change the output settings according to your needs. Click on Menu and open Preferences. In the Convert tab, you customize the output format, bit rate, conversion speed. Here, you can also customize how you want your converted media to be organized.
Step 4

Convert and Locate Tidal Music to DJ

Click on Convert to start converting at a 5x faster speed. Once the conversion is complete, you can view the downloaded files in the converter history as well as on your device as locally saved files.
Step 5

Import Tidal Music to Tidal DJ App

Finally, the Tidal music files are locally saved to your device. Now you can easily connect Tidal to DJ by importing the downloaded files to the Tidal DJ app. Open the app and click on import to simply select and add song from tidal to DJ as saved files. This way, you can stream and enhance Tidal music while being offline.
Part 4. Are You Ready?
Using Tidal DJ is now in reach. With some of the best DJ apps compatible with Tidal, you can quickly start enhancing and mixing music to your taste and liking. It's time to conquer your creativity by using Tidal DJ software to create personalized music.
Enjoy your Tidal music offline and in high-quality by using the AudFree Tidal Music Converter. Go on, add song from Tidal to DJ, and modify your music streaming and DJing experience.