There are many DJ software and apps that allow you to mix your music library. You can easily add your own music to the software and then mix your tracks. Now, music streaming services are becoming more and more popular among DJs. Tidal stands out for its innovative HiFi and MQA quality. So, many Tidal fans wonder which DJs are compatible with Tidal.
Read on and learn about the top 6 DJ software that works with Tidal. You can learn how to integrate them with your Tidal account and use them online through Tidal. Also, we'll give you a way on how to DJ with Tidal offline when your data or WiFi is unstable.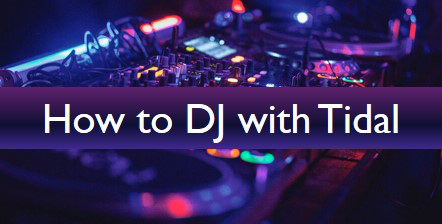 Part 1. Best 6 DJ Apps that Work with Tidal
Is there DJ app Tidal integration? Yes. While Tidal doesn't offer built-in DJ software, it has integrated with some third-party DJ apps. The Tidal streaming service is built into the DJ software and you can easily connect to your Tidal account. Then you have free access to Tidal's 80 million tracks.
The good news is that more and more DJs are adding Tidal to their UI. Here are the top 6 best DJ software officially partnered with Tidal:
1. Serato DJ
2. Algoriddim djay
3. Rekordbox
4. DJUCED
5. Virtual DJ
6. Denon DJ
It's easy to connect your Tidal account to the DJ app, then use it to access your Tidal music library. But different applications may have different settings. So, we're going to show you how to DJ with Tidal using these best DJ apps.
1. Serato DJ
Of the few DJ apps that are compatible with Tidal, Serato DJ takes the lead. If you are a beginner who is just starting your DJ career, this is the best choice for you. You can easily add songs from Tidal to Serato DJ and never run out of songs to mix. Serato also allows mixing two tracks simultaneously using pitch bends, scratches, nudges, and more.
Audio loops can also be created. You can further enhance your listening experience by adding sound effects and unique transitions. The Serato Sync feature locks track together to deliver perfectly harmonious grooves.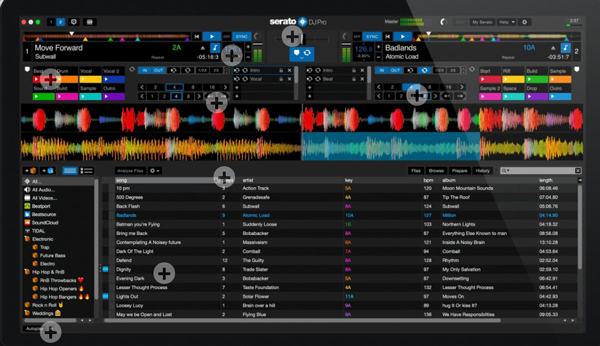 Step 1. Download, install, and open the Seraro DJ Lite or Serato DJ Pro.
Step 2. Tap on 'Settings' at the top and then choose 'Library+Display'.
Step 3. From the bottom, you can see 'Music Streaming'. Check the box of 'Show Streaming Services' and then choose 'TIDAL'.
Step 4. Once chosen, you will be guided to the Tidal website and you can log in to your Tidal account.
2. Algoriddim djay
A great DJ app is Algoriddim, which allows easy and powerful audio mixing. An intuitive interface combined with auto-mixing AI makes this Tidal DJ software a favorite among beginners. High-resolution colored waveforms further make the audio mixing process more seamless. Plus, Algoriddim is compatible with a wide range of devices, including Android, Windows, Mac, and iOS.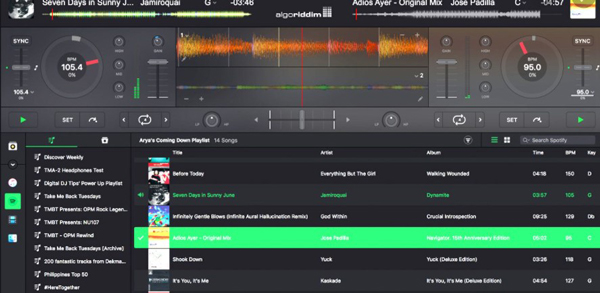 Step 1. Download, install, and open Algoriddim's djay.
Step 2. Navigate to 'music library' > 'streaming service'.
Step 3. Choose 'Tidal' and then 'Log in to TIDAL'.
3. Rekordbox
Rekordbox is a very intuitive Tidal DJ app packed with a multitude of powerful features. Among other apps compatible with Tidal, Rekordbox takes lead owing to the special effect library as well as the visual effects. The music and visuals can be optimally synced to give the best DJing experience possible.
You can work on various devices and sync your work through cloud library management. The Related Tracks option displays the song that best matches the currently playing song, making it easier to maintain the rhythm. Adding tags can also help filter the tracks according to preference.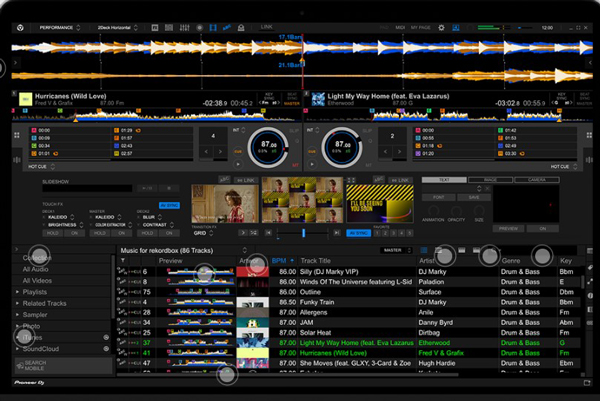 Step 1. Open the Rekordbox software and select 'Tidal' from the drop-down menu on the left.
Step 2. Log in to your Tidal account and then it will show your entire music library.
Step 3. Then you can browse 'My Collection' to take full control of them in Rekordbox.
4. DJUCED
As DJUCED advertises as "from your bedroom to your first gig," it's capable of mixing powerfully. It can track mixes, remix and enable music recording. It also includes DJ Academy for beginners to step up their game, so it's perfect for beginners. You can simply download its software from its official website.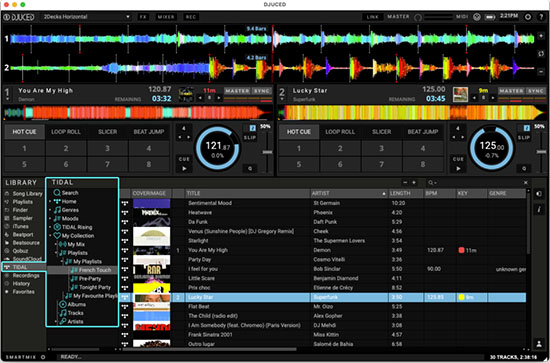 Step 1. Open DJUCED software and go to 'Settings'.Then make sure the 'Tidal' option is turned on in your library browser.
Step 2. Now back to 'Settings' and then choose 'Connect' in the left menu.
Step 3. Click on 'Connect' next to 'Tidal' and then sign in to your Tidal account.
5. Virtual DJ
Virtual DJ is another powerful Tidal DJ software for easy DJing. It has an intuitive user interface yet has the lowest crash rate in the industry. So you don't have to worry about losing your entire mixbook. It's also capable of enabling tracks using beat-aware algorithms.

Step 1. Open Virtual DJ and then log in to your account.
Step 2. Click on 'Online Music' at the bottom and then select 'Tidal'.
Step 3. Log in to your Tidal account and then you can drag and drop Tidal tracks to Virtual DJ for mixing.
6. Denon DJ
With Denon DJ software Tidal, you have the opportunity to stream high-quality tracks and access over 80 million tracks without a laptop. You can instantly import your music, playlists, hot cues and loops, ready to use. In addition to the available streaming services, you can also access your personal music collection stored on Dropbox.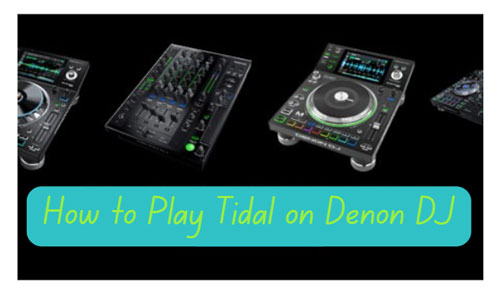 Step 1. Open the Denon DJ software and open 'library collection'.
Step 2. Click on the 'media device' icon at the top left.
Step 3. Follow the instruction to activate Tidal with your Denon DJ.
Pros and Cons of DJ Software Tidal
The benefit of Tidal for DJs compared to DJ Pools is that you don't have to download songs, which saves a lot of space. However, you must be connected to a stable internet connection when DJing with Tidal. When for some reason your internet connection doesn't work, you won't be able to get it done. Therefore, a practical way to use DJ with Tidal offline is essential. Read on and find out the best solution!
Part 2. How to DJ with Tidal Offline
To use the Tidal DJ app offline can be achieved by first downloading the Tidal songs to the local drive. Since Tidal music files are digitally protected, you cannot stream Tidal files without converting them to a common audio format. To help with that here is an amazing tool.
The AudFree Tidal Music Converter is a very powerful Tidal music downloader and converter. Whether you are a Tidal free user or paid user, you can use it to download and convert songs. It converts protected Tidal songs into various formats, including MP3, FLAC, WAV, etc. At a 5X faster conversion, the original audio quality is still retained lossless.
Key Features of AudFree Tidal Music Converter
This converter is also compatible with Windows and Mac systems. Simply install it via the 'Download' button above on your computer. Then we will guide you on how to DJ with Tidal offline without an Internet connection.
Step 1

Import Tidal Music for DJ Software

Open AudFree Tidal Converter and Tidal will also launch. You can then drag and drop music from Tidal to this converter. Alternatively, you can copy-paste the link of Tidal music into the search bar on the top. And then click the '+' button to load them.
Step 2

Customize Tidal Output Settings for DJ

Now you can change the output settings according to your needs. Click on 'Menu' and open 'Preferences'. In the 'Convert' tab, you customize the output format, bit rate, and conversion speed. Generally speaking, the default MP3 output format is compatible with most DJs. Here, you can also customize how you want your converted media to be organized.
Step 3

Convert and Locate Tidal Music

Click on 'Convert' to start converting at a 5x faster speed. Once the conversion is complete, you can view the downloaded files in the converter 'history' as well as on your device as locally saved files.
Step 4

Import Tidal Music to Tidal DJ Software

Finally, the Tidal music files are locally saved to your device. Now you can easily add the well-converted Tidal songs to DJ for offline mixing. You can open any DJ software and simply 'drag and drop' Tidal music from your computer to it. Alternatively, you can find the 'File adding' option on your DJ app to browse and import the converted Tidal songs.
Part 3. FAQs about Tidal DJ
Q1: Does Tidal Work with Virtual DJ?
A: Yes. Virtual DJ has partnered with Tidal so you can easily use Tidal music on your DJ.
Q2: Can You DJ with Tidal?
A: Yes. You can use Tidal music with DJ in two ways. The first is to use Tidal-compatible DJ software directly. All you have to do is log in to your Tidal account and get easy access to all your songs. But please note that all DJ apps require a stable WiFi network connection.
So, a better way is to use AudFree Tidal Converter to download Tidal music and use it on DJ. This does not require an internet connection and will work on any DJ software, whether it is Tidal compatible or not.
Q3: What Is the Best DJ App for Tidal?
A: Today we have shown you the top 6 best DJ apps that work with Tidal. Simply select the one you like and start mixing your music freely.
Part 4. In Summary
Tidal is a great choice for DJs. However, not all DJs are compatible with the Tidal streaming music service. Today we list the top 6 best DJ software that works with Tidal. Pick one you like and create your own music mix.
If you already have a DJ and want to use Tidal music, use AudFree Tidal Music Converter. This is the best way to DJ with Tidal. Because it provides offline mixing and allows you to use Tidal on any DJ software. Add your favorite Tidal tracks to your DJ and mix them even without a WiFi connection.