Spotify is a streaming platform that provides users with quality and wonderful music, while enthralling many music lovers. If you want to unlock more Premium features in Spotify, you have to pay $9.99 per month, which is a significant burden for many people.
However, the advent of Spotify premium free trial 6 months is a boon for music lovers, inspiring them to enjoy Spotify Music without hesitation. If you are still struggling with the monthly subscription fees of Spotify, then try out the amazing 6-month free trial. This article will show you all the official ways to get Spotify 6 months free trial as well as the tips to get Spotify Premium free trial forever.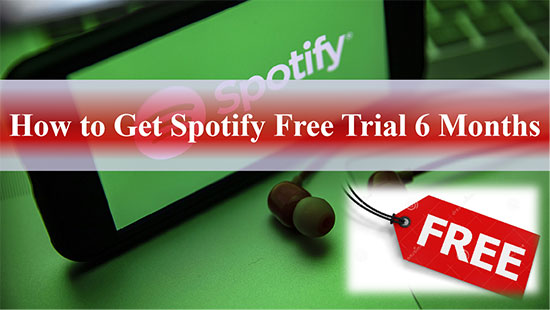 Part 1. Get Spotify 6 Months Free - Walmart+
Starting March 8, 2022, Spotify and Walmart+ have officially partnered to offer new and existing Walmart+ members a 6-month free trial of Spotify Premium, and the campaign doesn't end until March 6, 2023. What's more, new and existing Walmart+ members who haven't tried Spotify Premium before can participate.
In fact, once you sign up as a Walmart+ member, you can also take advantage of many Walmart benefits, such as free shipping, early access to special store promotions and events, and lower prices on prescriptions and gasoline. Finally, remember that the 6 months Spotify free trial offer can be redeemed through the Spotify and Walmart landing pages.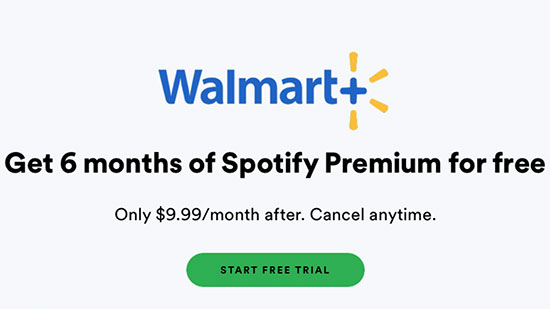 How to Activate 6 Months Free Spotify with Walmart+
Step 1. Navigate to the Walmart+ and Spotify Premium partnership page.
Step 2. Click Start Free Trial and enter your email information.
Step 3. Select a premium plan and follow the on-screen instructions to get Spotify premium 6 month trial for offline listening to Spotify music.
📝 Note: The offer is valid until March 6, 2023.
Part 2. Get Spotify Premium Free Trial 6 Months - OnePlus
OnePlus has officially announced that Red Cable Club members who link their OnePlus smartphone to Red Cable Club will get 6 months of Spotify premium for free, which does not apply to customers who previously purchased Spotify Premium directly from Spotify or through other channels. Also, you only need to link your OnePlus device to Red Cable Club to claim the offer. As long as you meet the above criteria, you can redeem the offer anytime before December 20, 2023.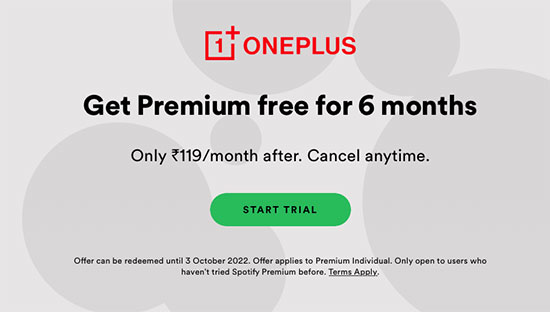 How to Redeem 6 Months Free Spotify with OnePlus
Step 1. Please link your device to Red Cable Club.
Step 2. Once the link is successful, open the Red Cable Club homepage in your device settings.
Step 3. Tap the "Claim now and listen to music ad-free" banner.
Step 4. Click the "Claim Now" button on the banner's landing page, after which you can get the promo code.
Step 5. Then hit on the "Activate Free Trial" button to go to the Spotify website.
Step 6. Fill in your personal account information to enable your 6 months Spotify free trial.
Pro Tips:Once the Spotify free 6 months is about to expire, you can simply cancel your Spotify Premium subscription renewal to stop this OnePlus or Walmart+ benefit.
📝 Note: The offer is valid until December 20, 2023.
Part 3. Get Spotify Free Trial 6 Months - Starbucks
Starbucks is offering employers a long-term free trial of Spotify streaming site. All partners are eligible to receive a free Spotify Premium for the duration of their employment to listen to Spotify music without ads. If you already have a premium subscription, you can cancel your subscription first and then switch to a partner Spotify Premium subscription to take advantage of this benefit.

See More: How to Use Starbucks Partner Hours
How Get Spotify Free for 6 Months via Starbucks
Step 1. Sign in or register for a Spotify account.
Step 2. Connect your Spotify account to Spotify's Partner Provisioning Portal to link Spotify and Starbucks verification systems.
Step 3. Enter your last name and Starbucks global username to verify that you are a Starbucks partner.
Step 4. Once verified, you can start getting Spotify Premium for free.
📝 Note: The offer is valid at all times.
Part 4. Expired Ways to Redeem 6 Months Spotify Free Trial
Spotify itself rarely offers a 6-month free trial, and Spotify actually partners with many other platforms to promote this benefit. However, the benefits offered by some resources may have already expired. In this case, we've compiled a list of platforms that no longer offer Spotify trial 6 months for your reference to avoid wasting time and effort.
1. Currys PC World
Once you have purchased Currys product, you will receive an email with a Spotify redemption code within two weeks of your purchase. With it, you can redeem Spotify premium 6 months at absolutely no cost to you.
Expire Date: November 4, 2021.
2. AT&T
The AT&T carrier used to offer Spotify Premium to all customers with Unlimited & More plan and a 6-month Spotify free trial for those without unlimited plan. This offer is available to both new and existing AT&T customers.
Expire Date: August 5, 2021.
3. Xbox Game Pass
Microsoft used to offer a special Spotify premium 6 months free trial promotion for new Xbox Game Pass Ultimate subscribers. As long as you're new to Xbox and Spotify, you'll have a chance to grab this double offer for the platform. When you subscribe to Xbox, you'll receive a code to redeem the free trial.
Expire Date: Expire Date: October 1, 2020.
4. Chase Credit Card Offer
Chase and Spotify previously offered a deal for new and existing Spotify Premium customers. Eligible Chase credit card members can enjoy six months of free Spotify Premium.
Expire Date: September 30, 2020.
Part 5. How to Get Spotify Premium Free Forever
Spotify 6 months free trial has actually delivered results, allowing many users to better enjoy a wonderful world of music. But there comes a time when the 6 months free trial comes to an end and you have to choose to continue your Premium subscription in case you lose the exclusive features of the Premium version. So is it possible to get Spotify Premium free trial forever without paying for it?
Fortunately, AudFree Spotify Music Converter comes in as a perfect solution to this dilemma. It is dedicated to download songs directly from Spotify and save them on your computer locally. In addition, it works not only for Spotify free users, but also for Premium subscribers. Even if your 6-month free trial period has expired afterwards, you can still keep Spotify music forever and play them on any media player or device without hassle.
AudFree Spotify Music Converter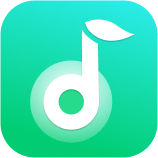 Convert Spotify Music to MP3, FLAC, M4A, AAC, WAV, and M4B
Downlaod Spotify music locally for free use forever
Run at 5X speed, and define output audio parameters
Preserve 100% of the original audio quality and ID3 tags
How to Play Spotify Music free Forever without Premium
Step 1

Import Spotify Songs to AudFree SpoDable

Launch AudFree SpoDable and the Spotify software will start at the same time. You can drag and drop tracks from Spotify directly into the AudFree SpoDable interface. Another way is to copy the URL of the track by right-clicking on it and pasting the link into the search box of AudFree SpoDable, followed by pressing the Add button on the right.
Step 2

Set Up Spotify Music Output Parameters

Once Spotify Music is added to AudFree SpoDable, you can click on the Menu icon in the upper right corner, then click on Preferences to open a new window where you can select the output audio format. For example, you can convert Spotify Music to MP3, FLAC, M4A, etc. In this step, you can also customize other output parameters such as output channel, bit rate and sample rate to adjust the Spotify Music quality.
Step 3

Get Spotify Premium Free Trial Forever

Click the Convert button to start downloading and converting Spotify Music. After the conversion is finished, all the music files will be saved to the specified folder on your computer. After that, you can listen to Spotify offline without Premium at anytime and anywhere.
Part 4. In Conclusion
This article collects all the possible ways to get Spotify premium free trial 6 months and surprisingly introduces the perfect solution to play Spotify Music forever without Premium. It seems that forever is as attractive as the word, so why not give it a try? Go ahead and extend your Spotify Music journey indefinitely.