Hisense TV offers good color balance, nice crisp images and decent black levels. It is a great device for playing music and other media content. Some music lovers may be wondering if there is a Hisense TV Spotify integration.
The answer is yes. And it's exciting to access Spotify music you like on Hisense TV. Then this article tells 5 effective ways to get Spotify on Hisense TV. Also, if you have problems with Spotify not working on Hisense Smart TV, here are available solutions for you to choose from.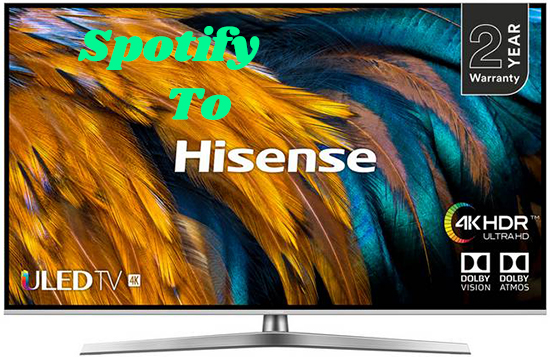 Part 1. How to Download Spotify on Hisense VIDAA TV
For Spotify premium subscribers, you can install Spotify app from the Hisense TV's app store. Because Hisense offers an excellent selection of Smart TVs, Android TV, Roku TV, VIDAA TV, etc., downloading the app on different TVs will vary. Choose the right step according to your TV model to download Spotify on Hisense Smart TV.
Add Spotify App to Hisense VIDAA TV
Step 1. Open Hisense VIDAA TV and click My Apps on the home screen.
Step 2. Select the App Store and click the Search icon in the upper right corner to search for Spotify app.
Step 3. Select Spotify app and click the Install button to install Hisense Spotify app.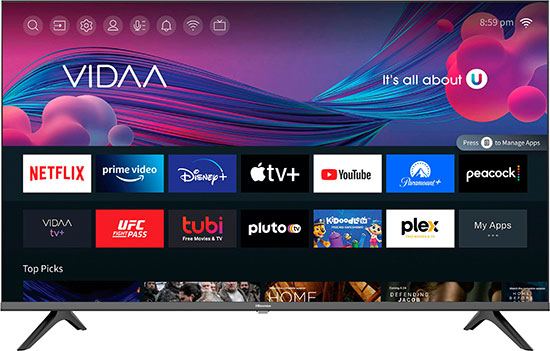 Install Spotify on Hisense Roku TV
Step 1. Launch Hisense Roku TV and click on the Streaming Channels option on the home screen.
Step 2. Scroll down and select Search Channels, then enter Spotify in the search box.
Step 3. Find the Spotify app in the search suggestion list and tap Add to Channel to install Spotify on Hisense Smart TV.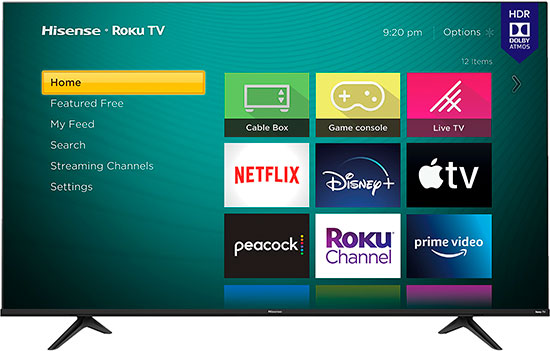 Install Spotify on Hisense Android TV
Step 1. Turn on your Hisense Android TV and connect it to a stable network.
Step 2. Tap on the Apps and Google Play Store options.
Step 3. Navigate to the search bar to enter Spotify.
Step 4. Select the Spotify app from the search results and tap on the Install button.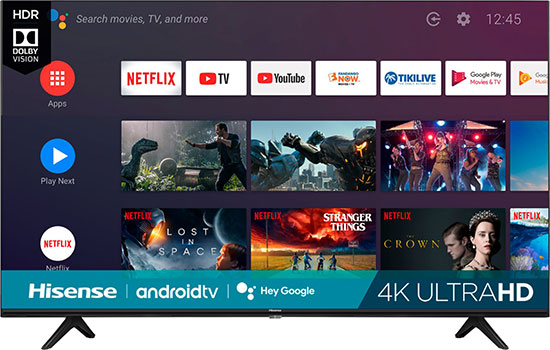 Play Spotify on Hisense TV with Spotify App
Now that you've successfully installed the Spotify app on Hisense Smart TV, it's time to sign in to your Spotify account on TV to explore millions of high-quality songs. Here are three available login methods for your reference.
Option 1. Launch the Spotify app on your Hisense TV and complete the login by entering your email address and password.
Option 2. Run the Spotify app on your mobile device and link Spotify account to Smart TV via the Spotify Connect feature.
Option 3. Choose LOG IN WITH PIN on your TV. Navigate to https://www.spotify.com/pair on another device that has a Spotify account and enter the password on the TV screen.
Part 2. How to Get Spotify on Hisense TV via Screen Mirroring
You can also use Spotify Connect, AirPlay, Chromecast, etc. to screen mirror Spotify music to Hisense Smart TV. Please note that these methods are only available for Spotify Premium users. Let's see how to control Spotify playback on Hisense TV.
Method 1. Connect Spotify to Hisense Smart TV via Spotify Connect
Step 1. Open the Spotify app on your phone, computer or tablet.
Step 2. Play the song you want to stream to Hisense VIDAA TV.
Step 3. Go to the Now Playing screen and click on Devices Available.
Step 4. Select your Hisense TV and Spotify will automatically play on your TV.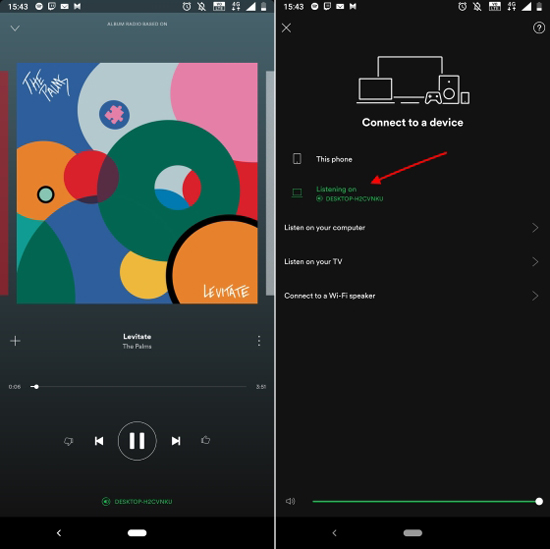 Method 2. Cast Spotify on Hisense TV with Airplay
Step 1. Make sure your iPhone and Hisense TV are connected to the same Wi-Fi network.
Step 2. Go to the main Menu of your Roku and select Settings > Apple AirPlay and Homekit.
Step 3. Turn on AirPlay on your Hisense Roku TV.
Step 4. Tap Screen Mirroring on iPhone and select the name of Hisense TV to connect your iPhone and Hisense Smart TV.
Step 5. Play your favorite song on Spotify app and it will be automatically streamed to your TV.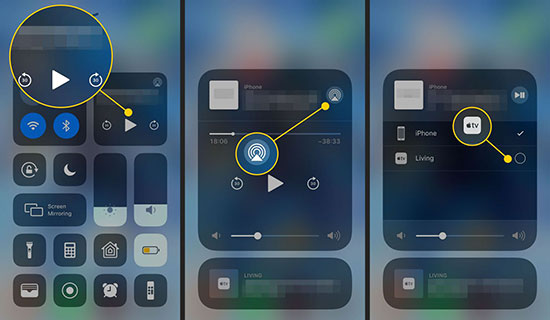 Method 3. Put Spotify on Hisense Smart TV via Chromecast
Step 1. Please connect Chromecast with HDMI port or connect Chromecast Audio with optical input port.
Step 2. Play Spotify music on your personal computer.
Step 3. Click Now Playing and then select the Devices tab.
Step 4. Under Connect to a device, select Chromecast or Chromecast Audio as the device to play Spotify music.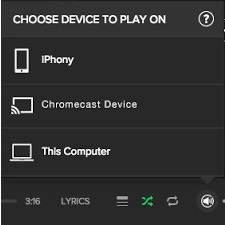 Part 3. How to Listen to Spotify on All Hisense TV for Free
For Spotify Premium users, you can listen to Spotify on Hisense Smart TV using the guide above, but you can only enjoy the songs within the Spotify app. Also, you must be on a good internet connection to make the app work. Once you cancel your subscription, you won't be able to get Spotify on Hisense TV anymore.
Is there a better way to play Spotify songs on Hisense Smart TV? Here's a perfect free way just for you. You need to make use of AudFree Spotify Music Converter, an amazing tool to convert Spotify music to MP3, FLAC, WAV, AAC, W4A or W4B. Then it is possible to transfer Spotify songs to USB for offline playback on Hisense TV.
What's more, there is no quality loss in the converted Spotify tracks. This tool will retain the ID3 tags and metadata information of Spotify songs while running at 5X faster speed. After that you can keep Spotify music forever and listen to Spotify music offline on any Smart TV.
AudFree Spotify Music Converter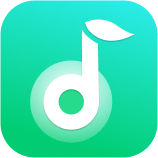 Convert Spotify songs to MP3, AAC, M4A, FLAC, etc.
Give you back lossless Spotify tracks for Hisense Smart TV
Run at 5X faster speed, customize output parameters
Get Spotify music on Hisense Smart TV, LG Smart TV, Vizio Smart TV
How to Download Spotify Music for Hisense TV
Step 1. Open AudFree Spotify Music Converter on your computer, the Spotify app will run automatically at the same time. Select the songs you intend to play on Hisense TV, then drag them to the conversion window. Or you can copy their URL and paste it to the search bar. Hit "+" icon to add the songs to the window.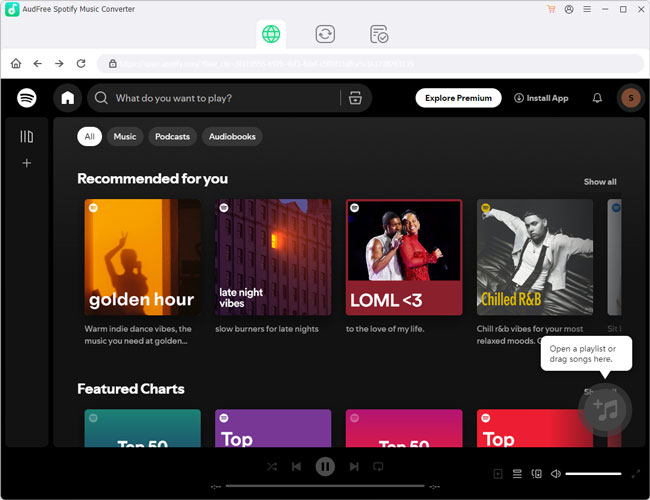 Step 2. Press on the "Menu" and "Preference" button on the top. You are inspired to define the output format, channel, bit rate and sample rate as you see for Hisense Smart TV. In addition, you can also archive the output Spotify tracks by Artist or Album.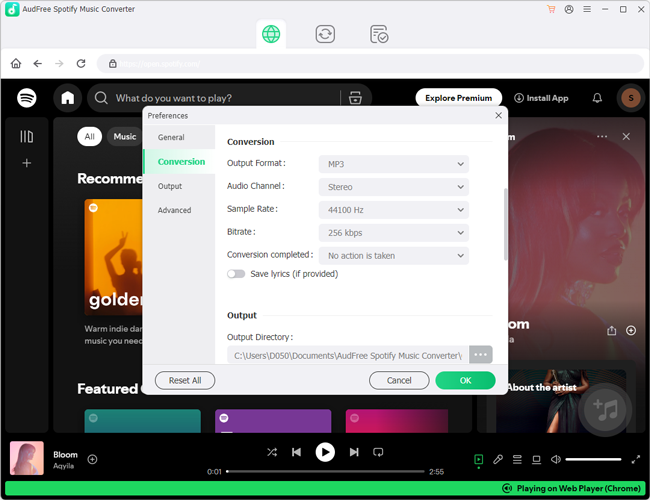 Step 3. Hit the "Convert" button to download the Spotify songs locally. The data of the songs, like title, genre, year, group, album cover, etc. will be saved on the process. In the end, the transferred Spotify tracks can be located in the output folder.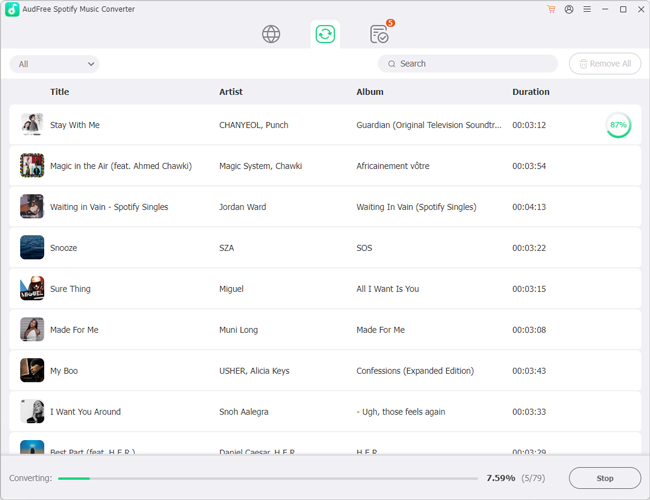 How to Load Spotify Songs to Hisense TV via USB
Step 1. Copy and paste the Spotify songs to a USB drive from your computer.
Step 2. Insert the USB drive into the USB port of your Hisense Smart TV.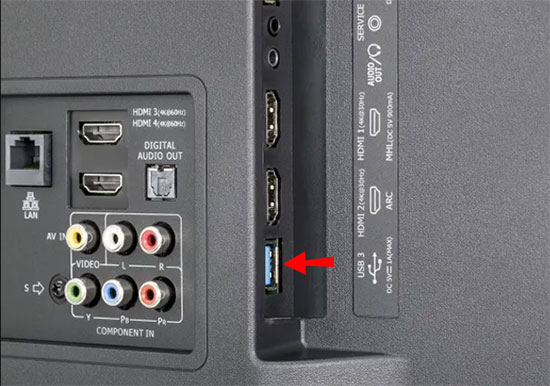 Step 3. Select the media type on the Media or Home screen to access the converted Spotify music on your Hisense TV for offline playback anytime.
Part 4. How to Fix Spotify Not Working On Hisense TV
Are you having problems with Hisense Smart TV not playing Spotify? There are several factors that can cause this problem, such as software failure, poor internet connection, setup issues, etc. You can refer to the following few troubleshooting steps to get Spotify on Hisense TV smoothly.
1. Check the Network Connection. For Hisense Smart TV's apps, they need an active internet connection to work properly. If your Internet connection is slow, or your TV is not connected to the Internet at all, there is a chance that the Spotify app will not play songs.
2. Reinstall Spotify App on Hisense TV. If you have a broken or outdated Spotify app installed on your TV, then you will also experience Spotify playback issues. The most straightforward way is to uninstall and reinstall the app.
3. Restart Hisense Smart TV. When you encounter Hisense TV Spotify app not working, restarting the TV can usually refresh the app and get rid of some corrupted temporary data. Once done, you can try to check if the Spotify app is working properly on your Hisense TV.
4. Update Hisense Smart TV Software. Connect Hisense TV to the Internet and select Settings on the remote control. Select Software Update to start updating your Hisense Smart TV. After that see if you can play Spotify songs on Smart TV.
Part 5. In Conclusion
HHere are 5 effective ways to use Spotify on Hisense TV for free and premium users. To get Spotify songs on any Hisense Smart TV offline, you'd better use AudFree Spotify Music Converter to backup Spotify to USB. Then it is a blissful thing to play Spotify on TV for endless enjoyment.