There is no denying that technology has a massive impact on our everyday lives. It has changed almost every sector, including the music industry as well. The music streaming services have completely transformed the music sector too. And music apps like Spotify, Tidal, and many more are impacting the music sector like never before. Music listeners now can access all their favorite music instantly, and that too with the highest audio quality.
What is even more exciting is the integration of Tidal and DJUCED. DJUCED is a DJ software for professionals and music fans. You can add Tidal music to DJUCED to make the best of your music experience. Today, let's figure out how to import music to DJUCED from Tidal.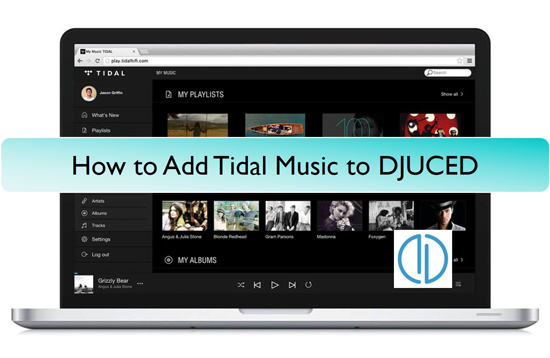 Part 1. How to Add Tidal Music to DJUCED with Premium
Does DJUCED Work with Tidal?
And the good news is that you will be happy to know that DJUCED does indeed work with Tidal. It's an online service that requires stable and fast Internet access to work with DJUCED - which means it will be able to provide reliable playback no matter where in the world they are located! With Tidal, you can enjoy high-quality streaming without sacrificing your connection.
How to Use Tidal with DJUCED
If you are new to DJUCED and want to use Tidal with DJUCED, then please follow the guide below and see how to stream music to DJUCED from Tidal.
Step 1. Go to DJUCED offline website on your computer web browser.
Step 2. Go ahead to download and install DJUCED on your computer.
Step 3. Log in to your Tidal account in DJUCED.
Step 4. Then you can start to enjoy Tidal music on DJUCED.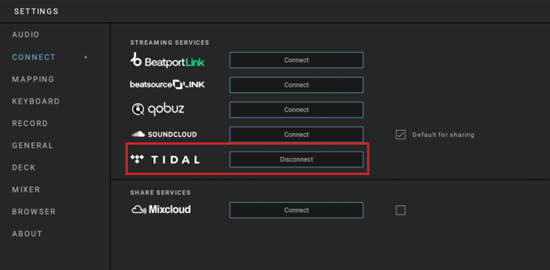 Part 2. How to Import Music to DJUCED from Tidal without Premium
Yet, you can't use Tidal with DJUCED offline and the Tidal app allows you to play music on its app only. If you want to enjoy Tidal music on more devices, then you need to use third-party tools to download Tidal music on your device and stream your favorite music for free offline.
The AudFree Tidal Music Converter is one such software service that enables free downloading of Tidal music for use on any device. The tool is primarily used for enjoying playbacks of the Tidal music tracks in any format. You can convert the Tidal music file and download them on your system to listen to your favorite Tidal songs offline.
How to Convert Tidal Music for DJUCED vid AudFree Tidal Music Converter
Now, we will go ahead to show you how to use AudFree Tidal Music Converter to download and convert Tidal music for DJUCED. First, you need to download the program to the computer. Follow the steps below.
Step 1

Download AudFree Tidal Music Converter

Go to AudFree Tidal Music Converter webpage to download and install it on the computer. Then launch it. And then you can see its main screen. Next, you need to log in to your Tidal account via the 'Log in' or 'Sign up' button on AudFree.
Step 2

Change audio format for Tidal music on DJUCED

Click on the three lines icon from the menu bar on AudFree. Then choose 'Preferences'. A new window will show. Next, press on the 'Advanced' option. Then you can start to set the output audio format and other audio parameters for Tidal music on DJUCED.
Step 3

Add Tidal music to the AudFree software

Click 'OK' and go back to the main interface of AudFree program. Then find the Tidal playlist that you want to convert and use on DJUCED. Once got, click on it and press on the '+' button from the right side of AudFree. Then the playlist will be on the conversion window of AudFree.
Step 4

Convert Tidal music for DJUCED

Click on the 'Convert' button to download Tidal music for DJUCED. Please wait for the process finishes. After that, go to the 'history' icon to find the local Tidal music on your computer.
Once you have downloaded the Tidal playlist, you can add Tidal music to DJUCED. Just open DJUCED and import the selected Tidal songs to it or you can import the entire playlist from your system. Then start playing Tidal music on DJUCED. After then, you don't need a Tidal Premium account to get your Tidal playlist offline on DJUCED.
Part 3. FAQs about DJUCED and Tidal Music
There is no doubt that with the rapidly growing popularity of both DJUCED and Tidal, you might want to use Tidal with DJUCED. In the process, you could have certain doubts that need to be clarified. Let us look at some main ones.
Q1: Why Is the DJUCED Recording Function Disabled when Using Tidal Music?
A: When you use a streaming service, not only do you not own the music, but it's also difficult to record any audio from these services. In the contract of DJUCED with Tidal, they were restricted in capturing anything coming out of their server onto our hard drives without permission due to copyright laws and intellectual property concerns.
One thing that is good about DJUCED is that they have made great strides on both fronts by improving quality while simultaneously broadening access through partnerships such as this one with Tidal and others.
Q2: Why You Can't Log in to Tidal Account in DJUCED?
A: Tidal is an online service that requires a stable Internet connection to work with DJUCED and has the latest updates. If you are unable to access Tidal in your country or if it's offline for whatever reason - with no reliable way of getting back online anytime soon - don't worry! There are other ways for content like this one (as well as many others) outside of North America so long as their users have Internet capabilities beforehand, so make sure everything outlined above matches up accordingly.
Your application authorizes itself to communicate over HTTP when requesting streaming data from external sources.
Q3: Can You Stream Music to DJUCED from Tidal for Free?
A: As the perfect music solution, AudFree Tidal Music Converter is well designed for subscribers to control better the playback of their tracks on PC and Mac.
There are two different types of subscriptions available - Tidal Premium and Tidal HiFi. Regardless of which one you choose, this best converter provides easy solutions that can help users convert Tidal playlists or albums from its website player into plain audio files such as FLAC (lossless), WAV (linear sPulse Code modulation) & MP3, etc., preserving high quality during conversion process, so songs will sound great anywhere at any time without hassle!
In other words, this is how you can stream music to DJUCED from Tidal for free. The AudFree Tidal Music Converter is such an efficient application that can be used for multiple purposes.
Part 4. Conclusion
In conclusion, we can say that both Tidal and DJUCED have many benefits. It is owing to the benefits that they offer that make them so popular. What is also very exciting to note is that integrating both applications can do wonders if you are a great music lover. In the process, you might be having some doubts.
Having read this blog, we hope that many of the questions you had have been answered. To make use of both the applications, some online tools come in handy. One such online tool is AudFree Tidal Music Converter which can do wonders for your listening experience of Tidal music anywhere offline.