Music streaming has become a competitive business affair. As a matter of fact, there are numerous of trending names that are newly approaching the market. Meanwhile, the old tusks are also scrambling for the available space of competition in order to maintain their space.
Looking at Google Play Music vs Spotify 2019, it is evident that keeping their users intact is their daily cup of tea. Their catalog both range at over 30 + million songs with an option for offline access. The ball, however, rolls to the users' court when it comes to settling on the best choice.
Probably, this is bound to leave you with the question: Which of the two music streaming services works better? Here's the kicker, let's look at them for a clearer thought.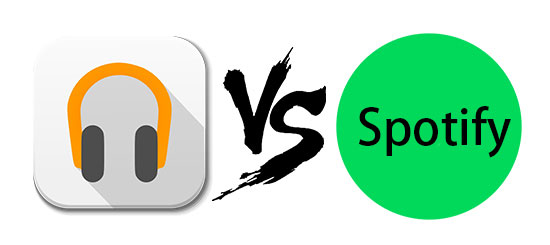 Music Library
When it comes to Google Play Music vs Spotify, many users regard Spotify's library as having a massive collection of music. Music lovers need to get tons of varieties of music. Spotify has managed to lock its users by offering all the latest music together with some old but best music seamlessly. Furthermore, their wide range of stations that users can choose music from is another notable deed by Spotify. By the way, Spotify also allows users to add local files to Spotify music library with ease.
Google Play Music is not also left behind speaking of offering comprehensive music experience. Its inclusion of a dedicated podcasts section is a notable gig that brings an enjoyable experience for its users. Besides, the liberty to share any newly uploaded podcast with friends on social media makes Google Play Music an app that keeps all on track. Besides, you can use this app to add your own library absolutely free and even store up to 50,000 of your music absolutely for free.
Music Discovery
Spotify integrates the 'Daily Mix', a feature that lets you create your own playlists depending on your favorite songs. Meanwhile, you can also pick on a ready-made playlist that you think is cool for you. What's more, you can easily play any album or playlist on shuffle mode to kill boredom.
The 'Discovery Weekly' is another feature that Spotify boasts of. It works by making up new tracks, including those that you've never heard about. The 'New Release Radar' is another feature playlist at Spotify that is automatically generated from 30 of the newest released tracks. These are compiled in line with your taste as a listener.
Using Google Play Music, on the other hand, lets you integrate subscription music with your personal music locker of the already owned music. Besides, you can also listen to your cloud-saved music from its web player. The 'Recommended new releases' feature on Google Play Music gives 3 new best tracks that will randomly show. There is also the 'New Releases' feature that acts smart by including all of the available new tracks. This is surely a smart way to keep track of the new releases.
Google Music vs Spotify Price
Comparing Google Play Music vs Spotify in terms of pricing, there seems to be very little difference. You will part with $9.99 for an individual monthly subscription for Play Music. However, there is the slot for up to six members of a family, at a monthly cost of $14.99. Besides, Google Play Music can be enjoyed for free but is limited to radio stations.
Spotify comes in three different versions, pretty same as Google Play Music although with the inclusion of Spotify student discount at $5.00 per month. Spotify's Premium version also costs $14.99 for six users' accounts. It has enforcement that all the six members have to live at the same address for the app to be effective. Remember that you cannot change the address as long as you have subscribed. In the event that one wishes to change address, then that particular user losses their plan. The only alternative at such a point of time is to opt for an individual plan.
Sound quality
In terms of the sound quality of Google Play Music quality vs Spotify, the latter has a lot in store. It can offer up to 256 kbps when it plays on Chromecast. Although on 'Extreme quality', Spotify stands at 320 kbps bitrate. Besides, Spotify gives qualities of audio which could be automatic, normal, high or extreme high options.
Google Play Music, on the other hand, offers audio streaming qualities of up to 320 kbps on both subscription as well as the uploaded music. Since the sound quality is determined by data usage, Google Play Music allows you to choose between high, low and normal Wi-Fi or Mobile Network Plan.
Other Features
Basing on the usability of Spotify vs Google Play Music the latter keeps you ahead of time. Apart from being able to add your own tracks, the 'thumbs up' feature works well by remembering your likes and dislikes. By this, the app is able to change your radio station and other future stations according to your likes and taste. Google Play Music's Now Playing Queue will also organize both the currently playing songs while letting you see ahead the dozens of songs on radio stations. You can actually swipe away any songs that you wouldn't want to listen to during that session.
With Spotify, it doesn't show what is coming ahead on radio stations. However, it has an appealing look with a simple user interface. It is possible to easily jump between sections on Spotify than the counterpart. You can also download music for offline listening if you are on the Premium version. Furthermore, Spotify lets you play any playlists on any device or on your computer with no ads in between. Ensure you make use of the search filter on playlists to check for duplicated songs or artists on Spotify.
Bottom Line: Google Play Music vs Spotify
All in all, these two streaming music services have got a lot in store for users. Being the fact that they cost the same, it is better to settle for an option that will give you service for your bucks.
Google Play Music vs Spotify comparison puts Spotify at the forefront especially when it comes to its unique features. Apart from coming on board with nice perks like cool sound quality, the service suits those who are into music. Google Play Music suits those who like standalone music, especially with its allure of storing 50,000 tracks for free. Since most people are into music, Spotify will make the ride easy.
More Tips: How to Transfer Spotify to Google Play Music
Here, we will give another nice solution on how to listen to Spotify and Google Play Music better. If you don't know which streaming music service of Google Play Music and Spotify to select finally, you can subscribe Google Play Music and use AudFree Spotify Music Converter to download and convert Spotify music to MP3 files that can be uploaded to Google Music. After that, you can play Spotify playlists and Google Play Music on the same device.
If you don't know the complete guide on how to make two music libraries together, you can visit this link: How to Import Spotify Playlist to Google Play Music.