Talk about music for everyone and I'm sure your mind will narrow down to Spotify streaming service. Perhaps that's for the reason that it is one of the earliest pioneers in this industry. I guess that's not the case presently because this giant has so far found matching rivals that are ready to take its horn by storm.
YouTube Red has been out for some time now. Originally YouTube Music Key, this service lets you stream your music and videos without ads. Additionally, easily get background play and save your videos for when you need them.
An in-depth comparison of YouTube Red vs Spotify will help clear the thin line between the two.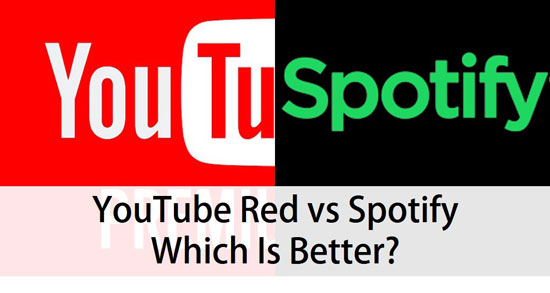 Spotify vs Youtube Red Basics
When it comes to dishing out songs, Spotify gives access to millions of songs, video, and podcasts from any part of the world. Besides, it allows you to freely access its content as long as you have signed up via your email address or your Facebook account. However, for a full service, Spotify needs you to go for the Premium subscription. Fortunately, there are some ways to get Spotify Premium for free.
YouTube Red on the other hand, is currently available in a handful of countries hence cutting off some users from experiencing its goodies. However, it's still expanding and is yet to be availed in many countries. What is thrilling about this app is the removal of advertisements from videos but is not limited to paid channels or other rentals and movie purchases. Besides kicking off adverts, it echoes offline viewing and listening to music even with an off-screen.
Music Library
In the quest to look at YouTube Red vs Spotify data music library, both have access to thousands of playlists, artists, albums, and songs among other offers.  With YouTube Red, you can engage its powerful features and perform outrageous actions like searching for songs via vague descriptions or sometimes via lyrics. And besides the ad-free experience, YouTube Red offers background listening and downloads. Spotify also has an eye-catch, offering you a world of free music, podcasts and curated playlistsr.
Audio Quality
The standard YouTube offers audio quality of between 126k-192k Opus meanwhile subscribing to YouTube Red gives you a bit rate of up to 256kbps. Spotify, on the other hand, can stream up 320kbps. So, preserving data between these two streaming services may also count in to some extent. While YouTube Red can turn down its data saver mode to 48kbps AAC, Spotify manages to stream at 96kbps. Spotify will offer you some good quality for higher beats per second.
Note: For free Spotify users, you need to get help from AudFree Spotify Music Converter to improve the audio quality from 160 kbps to 320 kbps. The highlight of using this tool is that it also endows you the ability to download Spotify music without Premium for offline playback.
Pricing
Pricing tends to be a mix in the match for YouTube Red vs Spotify. For YouTube Red, there is access to Google Play Music subscription with each monthly subscription of $10. And vice versa for Google Play Music; with its subscription, you get access to Red for free. A free one-month trial is available with YouTube Red, so you can get your steps right before hand.
While YouTube Red doesn't have a diverse selection, Spotify caters for three categories of users for its Premium subscription. The free version is for your take with ads while the Spotify Premium offers ad-free options for students' monthly cost at $4.99, single user at $9.99 and for a family of six users at $14.99.
Music Discovery
Music Discovery is taking these two music streaming apps to another level. Spotify boasts of a team of curators who know how to bring to you the right kind of music right to your ears. The 'Fresh Finds' gives you leeway to fresh artists in the block. Considering moods and activities are not left out either; Check at 'Focus' to find tracks from the artists you like most. It's easy to find new music on Spotify. Spotify also brings forth lyrics integration, podcast add-on and accurate song suggestions.
And when it comes to daily and weekly hits, Spotify knows how to set apart the best. YouTube Red is pro at mixtapes. It can automatically download what it knows you enjoy. It also shines with Siri shortcuts and video integration abilities. Even though Spotify have lots of Discoveries, YouTube Red is specific.  It can pull up mashups from YouTube, work with YouTube Kids app and encompasses free access to Google Play Music.
Similarities
Finally, there is something in common between Spotify premium vs YouTube Red. YouTube has incorporated the Spotify-like personalized playlists with its 'Discover Mix'. With this, YouTube Red introduces you to some new and hot artists on the globe. Likewise, Spotify also offers you weekly mix of various tracks they think you like.