Whether you're working in your office or spending holidays in your home, you'd always want to enjoy soothing music to relax and make you feel better. Thanks to ever-evolving technology, you can now have many music streaming platforms that allow you to listen to millions of outstanding songs with a single click.
Tidal and Amazon Music HD have been the most popular music streaming platforms, and many people love using these two platforms. But the thing is that we live in an era where everyone opts to compare one thing with another. Not surprisingly, there is no difference as people often want to know about Amazon Music HD vs Tidal.
Considering people's demands, we've decided to review both the music streaming platforms and provide you with the appropriate outcome of the review.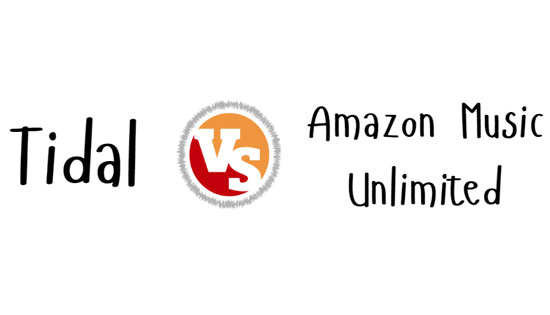 Part 1. Amazon Music HD vs Tidal: Sound Quality
Sound quality has to be the paramount aspect whenever you decide to go for a music streaming service. When you talk about Tidal vs Amazon Music sound quality, it depends on your taste.
If you go by some of the real user's feedback, you can say that the sound quality of Tidal HiFi is better courtesy of its warmer nature. However, Amazon Music HD's sound quality comes with a much better sense of space than Tidal HiFi.
Moreover, it would help if you kept in mind that Tidal comes with MQA technology that helps it stream larger sizes pretty easily. This aspect brilliantly helps this streaming service record sound, including live concerts and podcasts.
Meanwhile, the sound quality of Amazon Music HD tends to be fallen apart when there's a weaker internet connection around.
Part 2. Tidal vs Amazon Music HD: Music Library
When you talk about the music libraries of Tidal HiFi vs Amazon Music HD, we found Tidal HiFi's music library better. Tidal HiFi's high-fidelity streams and CD quality impressed us when we reviewed these two streaming services. Moreover, Tidal also comes with a "master quality recording" feature.
In addition, Tidal HiFi also allows you to access exclusive videos, including documentaries, concert streams, music videos, movies, and more.
However, Amazon Music stream will only provide your featured content, including playlists, tracks, albums, and top stations.
Unfortunately, you won't find any elaborate recommendations in Amazon Music. However, Tidal HiFi enables you to access the featured content, including playlists and albums based on the music files you've played recently. But Tidal doesn't come up with the facility of lyrics. Meanwhile, you can access the lyrics of your playlist by using Amazon Music HD.
Part 3. Tidal HiFi vs Amazon Music HD: Availability and Compatibility
As far as the availability and compatibility of Amazon Music HD vs Tidal HiFi are concerned, they both are compatible with iPhone, web, desktop, Apple TV, and Android devices.
It would be a wise decision to use a smart speaker if you're opting for Amazon Music HD. Connecting with smart speakers like Echo Studio will make your sound quality pretty impressive and high quality. Moreover, you also can opt for Google devices to use Amazon Music HD, but you'll get pretty limited features going in this route.
On the other hand, you can connect Tidal HiFi to Google devices, Nest, Sonos, and Echo. Luckily, if you want to download Tidal music for playing it on any device, you can go for AudFree Tidal Music Converter. It is a tool for Tidal music users to convert and download Tidal music for offline use on anywhere and anytime. And it can save lossless quality of Tidal songs after converting.
Part 4. Amazon Music HD vs Tidal: Cost and Plan
When you talk about Amazon Music HD vs Tidal HiFi price plans, the stand-out aspect about both these streaming platforms is the generosity to offer discounts for students, first responders, and military members.
Although both platforms offer their services at reasonable rates, you don't find their services expensive. However, Amazon Music HD can still get more credit for providing its users with excellent discount offers. You can read the details below.
Tidal HiFi
Free Trial: 30 days
Family Plan: 14.99 dollars/month
Standard Plan: 9.99 dollars/month
Military Plan: 5.99 dollars/month
Student Plan: 4.99 dollars/month
First Responder Plan: 5.99 dollars/month
Amazon Music HD
Free Trial: 30 days
Family Plan: 17.99 dollars/month
Standard Plan: 14.99 dollars/month
Part 5. Amazon Music HD vs Tidal Master: User Experiences
All the users we've reached out to about their experience using Tidal Master and Amazon Music HD gave us pretty surprising ideas.
Since Tidal comes with Master Quality Authenticated technology (MQA) to create and deliver guaranteed master recordings to Tidal users, many people termed this music streaming platform the best.
Apart from containing the massive sound quality, Tidal also allows you to stream the larger music files without any fuss.
Unfortunately, you won't find this facility with Amazon Music HD. However, this thing doesn't make Amazon Music HD any bad. Instead, Amazon Music HD is also a pretty credible streaming platform that has been used immensely by Amazon Prime subscribers.
Overall, if you go by their users' comments, these two platforms are surely worth your attention, and you can try acquiring their services at some stage.
Part 6. Amazon Music HD and Tidal: Pros and Cons
Amazon Music HD
Amazon Music HD is a prolific streaming service that allows you to explore 1 million songs. Luckily, this streaming service provides you with HD quality sound, meaning you can enjoy a lot of songs there.
Let us talk about the pros and cons of Amazon Music HD below.
Pros
You can easily access over a million high-bitrate songs using the Amazon Music HD streaming service
It is a pretty fast streaming service as you don't need to wait much to listen to your favorite songs
Amazon Music HD offers pretty affordable services as everyone can afford to acquire their subscription
It is easy to use
Cons
Amazon Music HD doesn't come with discounts
You won't find any podcast or video content
Tidal HiFi
Tidal will go down as one of the first streaming service providers that offer you lossless audio. However, it doesn't offer higher bit rates than Amazon Music HD, but its catalog is nothing less than spectacular.
Here are some pros and cons of Tidal HiFi that might help you spot the difference between Amazon Music HD vs Tidal.
Pros
Apart from offering you stunning sound quality, Tidal HiFi also comes with a Hi-Res audio option
It comes with exclusive artist streams and live concerts
Military people and first responders can enjoy the brilliant discount
Cons
Tidal HiFi lacks lyrics
The subscription of HiFi is pretty expensive
Part 7. Conclusion
It is tough to separate Amazon Music HD vs Tidal as both streaming platforms provide extraordinary services for their users. However, if you've got Amazon's Prime membership, you should go for the Amazon Music HD option.
But, if you're looking to enjoy music in extraordinary sound quality, you must go for Tidal HiFi. These platforms come with 30 days of the free trial version, meaning you can explore their features for free.
You can look into the credentials of both the music streaming platforms before going for the premium package. We're hopeful that this Amazon HD Music vs Tidal review will help you make a better decision.