Q: Is there any solution can make it possible of adding Audible books onto my Forerunner 645 Music? I take it for granted that I could easily listen to Audible audiobooks on Garmin watch. But I meet obstacle when I'm doing the first step - adding audiobooks to Garmin devices, since the audiobooks don't appear in the Garmin Express app.
Garmin has been manufacturing devices for the automotive, aviation and marine industries for 30 years, but now it has achieved significant success in fitness with the coming of Garmin watches, like Forerunner 645 Music, Garmin nuvi, etc. What's more, Garmin GPS devices feature with built-in player allowing users to enjoy audiobooks and music.
But there are still some necessary things you need to do otherwise you will meet the same trouble when loading Audible files to Garmin. Here, we will share two ways on how to active books from Audible on Garmin GPS watch for your reference.

Part 1. How to Listen to Audible Books on Garmin GPS via Audible Manager
When you search the 'what devices are compatible with Audible', you will be happy to find Garmin GPS device is in the short list. That's to say, you can transfer Audible books to Garmin GPS for playback with the help of Audible Manager, even your watch doesn't install the Audible app. Let's see how to activate books from Audible on Garmin.
Step 1. Buy the Audible books and then download audiobooks offline to your computer.
Step 2. Please make sure you have downloaded Audible Manager on your computer.
Step 3. Connect the Garmin GPS watch to your computer vis USB cable.
Step 4. Launch Audible Manager and select the 'Devices' from the top-left menu bar and then click 'Add New Device' to choose 'GPS device' as the target one.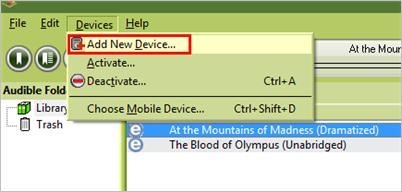 Step 5. You will be required to install the component files. Just confirm it and start the installment process. After that, you can choose downloaded audiobooks from Audible library and upload them to Garmin GPS device by hitting on the 'Add to Device' button.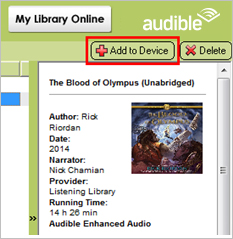 Tips: If you are using Garmin nuvi or Drive devices, it's important to be noted that those Garmin watches have built-in MP3 player and audiobook player that enables audiobook lovers to play Audible books on Garmin nuvi or Drive directly. You just need to select the 'Travel Kit' from the main interface and choose 'Audible Book Player' to enjoy your audiobooks purchased from Audible.
Part 2. How to Play Audible Audiobooks on Garmin Watch via SD Card
Only a few Garmin GPS devices support audiobook player and sometimes your GPS device can't successfully recognize the Audible Manager. Now, how will you do to transfer your Audible audiobooks for Garmin? Obviously, it seems a selectable way to save Audible books to SD card and then use Audible on Garmin from SD card.
Because Audible audiobooks are encoded in AA and AAX audio format with built-in DRM technology protection, you don't allow to transfer protected audiobooks to SD card. Here, you should remove DRM unlock from Audible audio files with the assistance of a professional Audible DRM removal tool, such as AudFree Audible Book Converter. Fortunately, this powerful tool can also convert Audible AA/AAX to MP3, FLAC, WAV, etc. And then you can freely play Audible books on all Garmin GPS devices through SD card.
AudFree Audible to Garmin Converter
Step 1

Add Audible books to AudFree Software

Hit on the first 'Add Files' button from the bottom-right corner of the AudFree's main interface and then it will pop up a window, in which you can select audiobooks from iTunes library and load them to AudFree automatically. Besides, you can directly drag and drop Audible files from your computer to AudFree software.
Step 2

Define output audio parameters for Garmin GPS

After importing Audible books to AudFree Audible Book Converter, you can click the 'audio' icon to customize basic audio parameters, such as output format, bit rate, sample rate, audio codec, channel, etc. If you'd like to keep or split audiobooks by chapters, you'd better choose M4A as the output format.
Step 3

Convert Audible files for Garmin watch

Now, you can tap the 'Convert' button to start removing DRM protection from added Audible files and converting .aa and .aax audiobooks to common audio files that can be synced into SD card. In general, the conversion time depends on how many audiobooks you have added.
Step 4

Move DRM-free Audible files to SD card

Audible books are saved on your computer and you can locate them on the destination folder by clicking the 'file' icon. Now, please connect the SD card to your computer via SD card reader and then you can move Audible unprotected files to SD card and play audiobooks on Garmin GPS device without problem.
Part 3. How to Put Audible Books on Garmin Devices via Garmin Express
Let's go back to the question at the beginning of the article that Audible files don't show up in the Audiobook folder in the Garmin Express app. The reason could be the same as why you can't transfer Audible files to SD card. Put it another way, Audible books are encrypted by DRM protection, which are not compatible with Garmin Express app.
To figure this issue out, you can follow the Part 2 to convert Audible books to DRM free audiobooks that can transfer to Garmin Express app and play well on Garmin watches. Here, we will take Forerunner 645 Music as example to show you how to listen to Audible on Garmin watch vis Express app.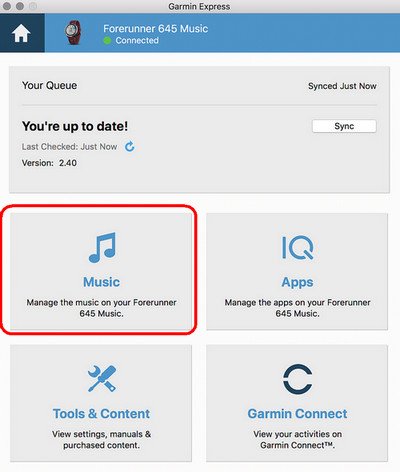 Step 1. Install and launch Garmin Express app on your computer running Mac or Windows operating system.
Step 2. Please connect your Garmin Forerunner Music device to your computer via USB cable.
Step 3. Once paired well, Garmin Express app will detect the Forerunner Music watch automatically
Step 4. Now, please click the 'Music' on Windows computer, while 'iTunes' on Mac and then browse your local audio folder and locate DRM-free audiobook folder.
Step 5. When found out, please check the mark in the front of audio files and select 'Send to Devices' to import Audible books to a Garmin Forerunner 645 Music. And then you can listen to audiobooks on Garmin as you like.