In this highly technological and informative era, advertising is everywhere. You'll see it frequently on your phone, computer and TV. It actually appears in popular music streaming platforms like Spotify as well. We're sure those who have used Spotify must have encountered the situation that Spotify free users have access to more than 70 million music resources, but will be disturbed by the occasional ads, which greatly reduces the listening experience of users and makes people feel very bored.
The most straightforward solution to this dilemma is to spend $9.99 a month to subscribe to Spotify Premium, but you must be more curious to get an ad-free service on Spotify without a Spotify Premium subscription. Then you've come to the right place. In this article, we'll introduce the best tools to help you get no ads on Spotify. Thus, you can listen to as much ad-free Spotify Music as you want and get a better Spotify experience with their assistance.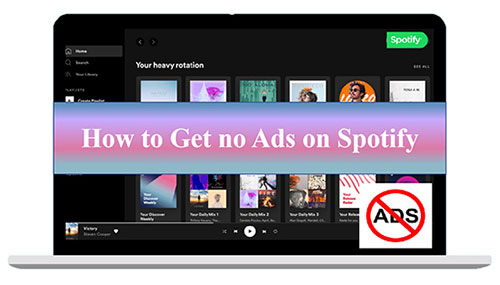 Part 1. How to Get No Ads on Spotify without Premium - AudFree Spotify Music Converter
You must have imagined how great it would be if you could get no ads on Spotify without Premium. Well, this AudFree Spotify Music Converter will make this idea a reality. As its name suggests, it is a comprehensive and intelligent Spotify downloader and converter. It can download and convert Spotify songs, albums and playlists to common output formats without Premium, and you can then play them offline on any device without the distraction of ads.
What's more, it preserves the full ID3 tags of Spotify Music and the quality of the audio is lossless during the conversion process. More importantly, it's available for all free and premium users. Read on to see how to get Spotify ad-free without Premium Via AudFree Spodable.
How to Get No Ads on Spotify without Premium
Step 1

Import Spotify Music to AudFree Spodable

First download and launch AudFree Spodable, click the Add button in the interface to copy and paste Spotify Music links into the pop-up window, or drag and drop Spotify Music directly into the main AudFree Spodable interface.
Step 2

Set Spotify Music Output Formats and Edit Parameters

Click the menu bar on the top right corner, tap to Preferences, and then set Spotify Music formats including MP3, FLAC, AAC, WAV, etc. in the newly appeared conversion window. Some other parameters are also able to be set manually, such as audio channels, bit rate, sample rate.
Step 3

Start Getting Spotify No Ads without Premium

After the settings in the first two steps meet your requirements, you can start the conversion of Spotify Music by directly clicking the Convert button and it will start automatically to download and get Spotify with no ads. After that, you can view the converted Spotify Music on your computer, and then you can freely play Spotify Music without ads on any player you like.
Part 2. How to Hack Spotify to Get No Ads on PC/Mac - AudFree Audio Capture
As an all-in-one audio recorder for PC and Mac, Audfree Audio Capture is sure to satisfy your desire to listen to Spotify Music without ads. It is hard to imagine that it can capture any sound that is playing just with one click, such as music played by popular streaming platforms like Spotify.
Then you can use this professional and easy-to-use Spotify Music recording tool to capture and download Spotify Music. Remarkably, it can save recorded Spotify Music to MP3, WAV, FLAC and other common formats and retain the full Spotify Music quality. What's more amazing is that you can view these converted Spotify Music on your computer's local files and in turn you successfully hack Spotify to get no ads and play Spotify Music in any devices and media players.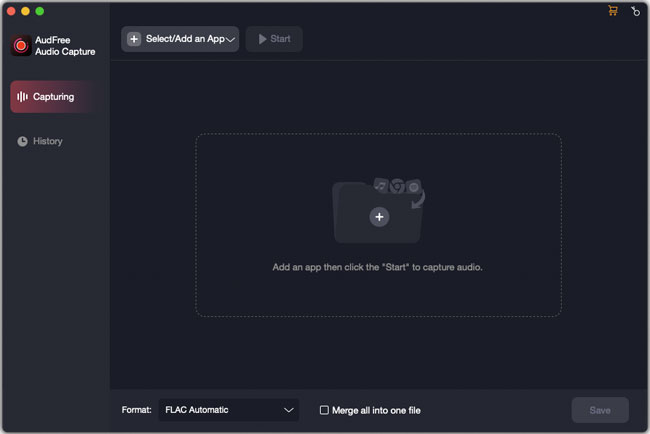 How to Hack Spotify to Get No Ads on PC/Mac
Step 1. Download and run AudFree Audio Capture on Windows and mac computers, you will find a list of target programs in the new pop-up window, select Spotify as the target program to start recording Spotify Music. If you don't see the Spotify icon, just click the Add button to add it.
Step 2. Click the Format button in the bottom right corner of the interface, you can see a variety of Spotify Music output formats, such as MP3, WAV, FLAC etc. In general, the AudFree Spotify Music Capture will default Spotify Music output format to MP3. After that you can also set other Spotify Music parameters according to your needs, such as you can set the bit rate up to 320kpbs.
Step 3. Click on the target program Spotify in the software start window, you can capture Spotify Music in the new pop-up recording window of AudFree Audio Capture. Just play any Spotify Music you want to capture directly, and then this Spotify Music Capture will automatically start the recording process.
Step 4. After the recording is finished, you can close the Spotify Music that is playing or just quit the Spotify software to stop the recording process. Once you make sure the above steps are done, tap the Save button and the Spotify Music will be saved directly to your local folder. After that, your Spotify Music will be played without ad restrictions.
Part 3. How to Get No Ads on Spotify for Android - Mutify
This powerful Spotify ad blocker for Android - Mutify - is popularly known as one of the best Spotify ad muffler apps. With the aid of Mutify, when you are playing music on Spotify, it will help you automatically turn down the volume of ads or mute them, so you can enjoy Spotify Music immersively.
The user interface is very simple and clear, and it doesn't ask for any unnecessary permissions when you use it on your Android phone. And it will run directly in the background without interfering with your Spotify app. If you are looking for a way to block Spotify ads on your Android phone, then you can't miss Mutify.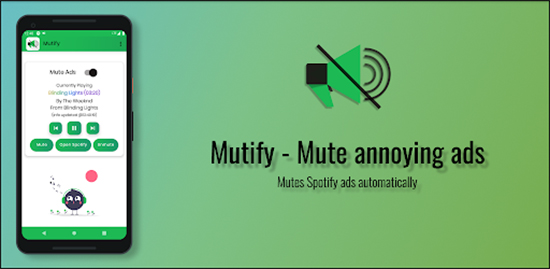 How to Get No Ads on Spotify for Android
Step 1. Download Spotify app and Mutify. All you need to note is that you have to install Mutify in the Google Play Store
Step 2. Run the Spotify software and click on the settings menu at the top right of the interface. Find the Device Broadcast Status option, you must turn on Device Broadcast Status. This step is to enable Mutify to work in the background while Spotify is running.
Step 3. Open your Android phone settings, tap Battery optimization settings and find Mutify in the Unoptimized option. remember to set it to Do not optimize so that your phone system will disable Mutify's battery optimization.
Step 4. Open and run Mutify, tap the I have enabled option in the settings to turn on the device broadcast status. After that, find the Mute Ads option and turn on the slider to the right of it, which means it turns green, and Mutify will be able to mute Spotify ads.
Part 4. How to Get No Ads on Spotify for iOS - StopAd
If you are looking for an easy way to block those annoying ads on Spotify software, then StopAd is what you are looking for. It is a powerful ad blocker that can be used to block ads on Spotify for iOS. And it is known as one of the best ad blockers for iOS.
Moreover, it not only removes or blocks pop-ups of unwanted ads, but also prevents certain forms of malware. On one hand, it protects your private information and enhances the security of the Internet. On the other hand, it facilitates your Spotify enjoyment experience.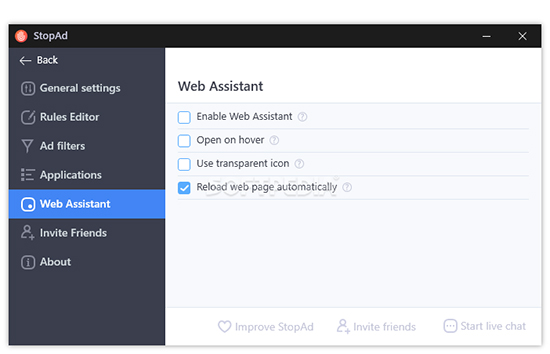 How to Get No Ads on Spotify for iOS
Step 1. Download StopAd on your iPhone's official store.
Step 2. Run the StopAd software, tap the Settings option in the interface and find the Apps option in the section. If you see Spotify in the Applications section, you can also select it directly.
Step 3. Click the Add to filter button next to Spotify to add Spotify as one of StopAd's target programs, and then StopAd will be able to automatically block Spotify ads when you play music on Spotify.
Part 5. How to Get No Ads on Spotify for Free - EZBlocker
EZBlocker is a simple and convenient free Spotify ad blocker that is favored by the public. EZBlocker comes into play when you play music on Spotify accompanied by ads loading, it will block the ads loading on Spotify. It works very simply by muting Spotify when Spotify Music is playing with ads. This muting process continues until the ads are over, and other sounds are not affected. Isn't this free Spotify ad blocker very stable and reliable?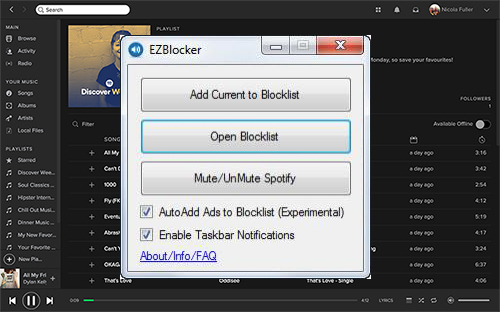 How to Get No Ads on Spotify for Free
Tips: EZBlocker is a free application for Spotify desktop version. Just download and run it on your computer and it will automatically block Spotify Music ads in the background. Take a quick look at the simple steps below.
Step 1. Download EZBlocker on your computer. You are supposed to note that EZBlocker requires Windows 10/11 or Windows 7/8 with .NET Framework.
Step 2. Right-click on the downloaded EZBlocker.exe on your computer and tap to Run as administrator option.
Step 3. Then the Spotify software will start automatically now and EZBlocker will continue to run in the background. You can start playing any Spotify Music as you wish, and EZBlocker will take care of muting the ads in the background.
Part 6. Summary
After reading the above methods, you are able to easily and freely remove Spotify ads and get a better Spotify Music experience. Not only can you get no ads on Spotify for PC, Mac, Android and iOS. You can also hack Spotify to get no ads for free or even without premium with professional and omnipotent tools. Choose the solution that suits you best and start your spotify Music journey.