Spotify is one of the top music streaming services in the world. It is used by millions of people every day. However, like most other apps, it has some drawbacks. For example, if you're planning a trip abroad, you'd be shocked to find out that Spotify isn't supported in your country. Or maybe you're a free user and want to know if there's a free Spotify alternative without too many ads. Or maybe you've been using Spotify for a long time and are looking for a change.
In either case, if you want to switch to another service, the first step is to cancel your existing subscription. Then, choose one of the best Spotify alternatives. So, what are the options? Read on in this article where we'll list the 15 best alternatives to Spotify. You'll get to know their pros and cons and then make the best choice.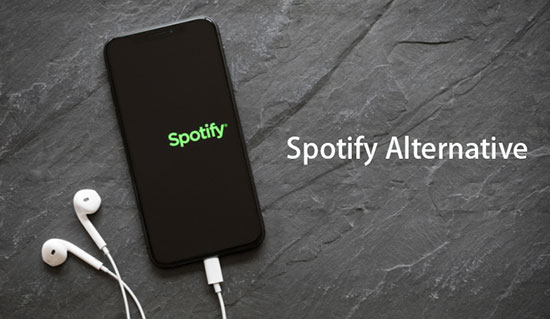 #1. Slacker
Slacker (also called LiveXLive)) is like Spotify in more ways than one which makes it easy to transition from Spotify. It is one of the best alternatives to Spotify. If you are in the United States or Canada, you will love this app. It gives you access to over 20 million songs and endless features that enhance your music listening experience.
First, it is available on Roku, Android, and iOS, which means that you have a wide variety of devices you can use to listen to your songs. In fact, more devices than Spotify will allow you. Secondly, Slacker allows you to create albums, genres, songs, or artists. However, unlike Spotify, Slacker uses artificial intelligence to predict what songs you'll like to listen to based on your choices and previous history.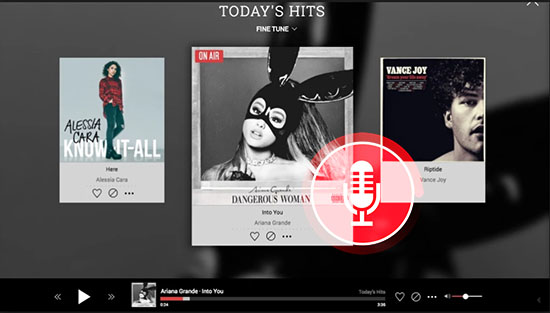 Pros:
Supports offline playback
Informative DJs
Unlimited skips
Live ESPN Radio broadcasts
Ads-free
Cons:
No crossfade feature
No Family plan
Pricing:
Free
Radio Plus - $3.99/month
Premium - $9.99/month
#2. Deezer
Probably the main reason you are seeking an alternative to Spotify is that you live in a country that has no access to Spotify. If this is the case, then Deezer is your best Spotify alternative. This is because Deezer can be accessed from 189 countries across the world. It is available in more countries than any other known music streaming service. This makes it the number one choice for frequent travelers or people looking to move abroad.
Deezer will give you access to over 90 million songs with lots of great features to enhance your listening experience. But this will set you back $9.99 a month for the basic plan or $19.99 a month for the premium plan which gives access to CD-quality songs. If you are a student, then you will only need to pay $4.99 per month for the basic version which is a huge discount.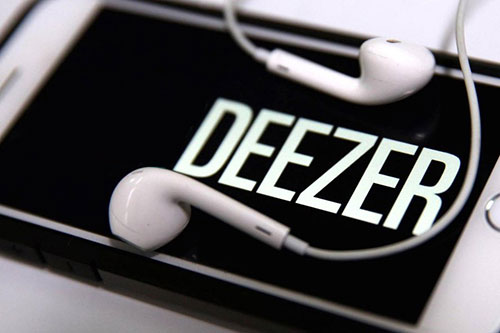 Pros:
Available in many countries
A growing library of popular podcasts
Users can create custom radio stations
Cheaper than Spotify
Ad-free, offline playback
Lyrics available
Cons:
Pricing:
Free
Premium - $9.99/month
Family - $14.99/month
HiFi - $14.99/month
#3. Google Play Music
Google Play Music is an important player in the music streaming industry. It means that this list will be incomplete without mentioning Google Play Music app as one of the best alternatives to Spotify. If you have one of the latest android devices, then you already have this app preinstalled. The app gives access to more than 40 million songs in different languages from across the world.
To use this app, there are affordable plans for everyone that you can purchase. One of the major advantages of the Google Play Music app is that you can use it to play the audio version of all your YouTube videos. This gives you access to millions of podcasts, eBooks, discussions, and even videos available on YouTube as audio-only.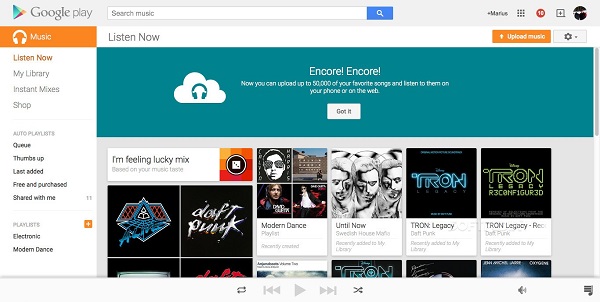 Pros:
Good audio quality
Links to YouTube videos
Handy music locker
Cons:
Pricing:
Free
Unlimited - $9.99/month
#4. Amazon Music
Amazon Music is another Spotify alternative that has invested heavily in the music streaming industry. With the Amazon Prime app, you get access to a large library of movies, podcasts, TV shows and Amazon Prime Music. This is more than what Spotify offers. In addition, you have access to millions of Audible audiobooks. This means that you will have more than what any other music streaming service has on offer.
If you are already an Amazon Prime subscriber, then Amazon Prime Music is free. However, if not, you have to pay the $12.99 a month as your Amazon Prime Music subscription to enjoy the service.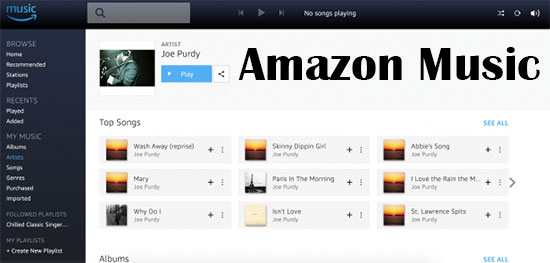 Pros:
Provides HD, ultra HD, and 3D audio
Offline listening with unlimited skips
Cons:
Available to a limited number of countries
Doesn't have much depth in user experience
Pricing:
Free
Amazon Prime membership - $12.99/month
Amazon Unlimited - $7.99 /month
#5. JioSaavn
If you want to listen to endless streams of music in exotic languages on your music streaming service, then JioSaavn is the best choice for you. This application allows you to listen to millions of songs from all over the world in English, Hindi and many other languages. With 50 million songs from all over the world, you will never get bored with this application.
Furthermore, the app lets you enjoy 90 days free trial which is the longest of any paid music streaming service. If you subscribe to this app, you can download unlimited songs to listen to offline. One beauty of this app is the fact that it is available for both iOS and Android operating systems.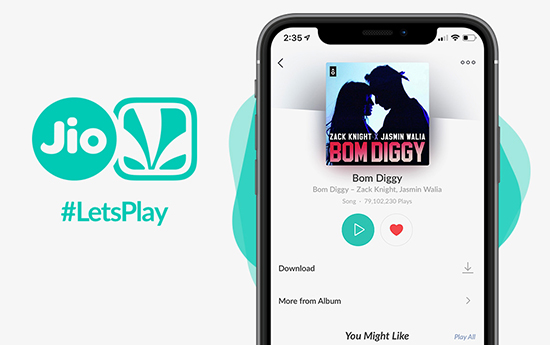 Pros:
Large music collection
Offline listening
Lyrics available
Cons:
Annoying setup
No podcasts
Has annoying ads
Pricing:
Free
Pro - Rs. 99/month; Rs. 999/year
#6. Apple Music
Apple Inc. was the company that made music streaming possible when they introduced the iPod and iTunes in the early 2000s. It, therefore, means that Apple Music is one of the most important players in the music streaming industry. Apple Music gives you access to over 50 million songs whether you are using an iOS device or an Android one.
It does not have a free version, but will give you a free three-month trial before you subscribe. It has a student version for only $4.99 for university students around the world, a premium version for $9.99 that opens up all features, and a family plan for $14.99 that allows up to six members of a family to use the same premium account.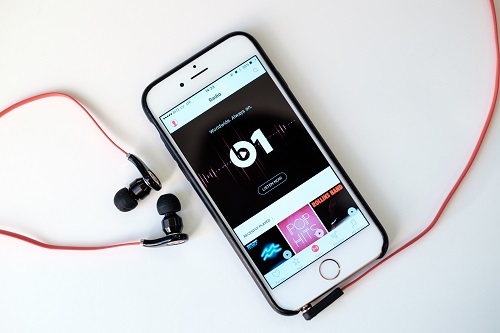 Pros:
Has better sound quality than Spotify Premium
Offline playback, lyrics available
Has a CarPlay mode to play safely while driving
Cons:
The interface is not immersive
Pricing:
Free
Student - $4.99/month
Family - $9.99 /month
Individual - $9.99/month
Family - $14.99/month
#7. Pandora
It will be a crime to talk about Spotify alternatives without mentioning Pandora. It is one of the oldest music streaming services in the world having been established in 2002, almost half a decade before Spotify came into being. It is more famous as an online radio station than a music streaming service thanks to its history.
With over 75 million users, it is clear that Pandora has been doing things right. For just $9.99 a month subscription, you get access to millions of songs.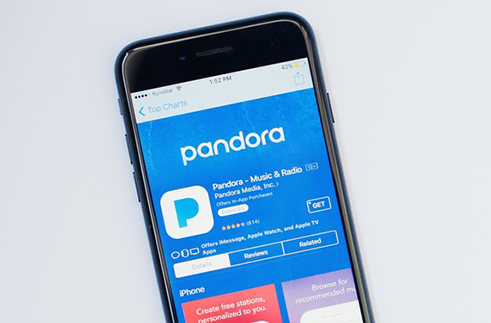 Pros:
Lyrics available
Display artist tour and ticket information
Offers insightful album commentary
Cons:
Lacks Hi-Res audio tracks
Intrusive listening requirement with a free tier
Pricing:
Free
Plus - $4.99/month
Premium - $9.99 /month
#8. Grooveshark
If you are looking for a free Spotify alternative, then your best option is the Grooveshark app. But, wait, it is not entirely free, right? This music-sharing app comes with two versions the free version and the paid version. Just like Spotify the free version runs ads and has limited features.
However, this application offers you a chance to discover songs that are not available in many other music streaming services. This is because musicians love it and often use it to share their songs, some of which don't find their way to mainstream media.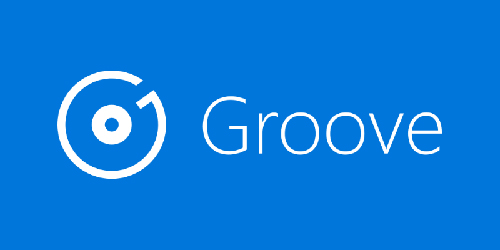 Pros:
Direct customer support
Larger music catalog
Available anywhere
Cons:
Many tracks are mislabeled
Questionable legality
Pricing:
#9. SoundCloud
If all you want is the ability to never listen to the same songs twice in the next decade, then SoundCloud is your best Spotify alternative. SoundCloud has over 200 million tracks from artists across the world. This means that you have access to more songs that you can listen to in your lifetime. If you are a student, this app offers huge discounts just like Apple Music. And you can take advantage of these discounts to keep enjoying your best songs whenever you want.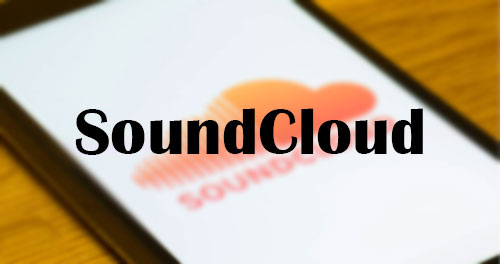 Pros:
Ad-free and offline playback
Has wonderful discovery features
Has unlimited song skips on mobile
Cons:
Cannot find popular artists' full discographies
Some songs are not available in some countries
Premium plans are only available in a few countries
Pricing:
Free
SoundCloud Go - $4.99/month for web/Android; $5.99/month for iOS
SoundCloud Go+ - $9.99 /month for web/Android; $12.99/month for iOS
#10. Tidal
Tidal is the home of hip-hop, also a cheaper Spotify alternative. Owned by hip-hop heavyweights such as Jay-Z and his wife Beyoncé, there is more you can expect from this app. The app has more than 50 million songs from all genres, not just Hip hop. It also has a reputation for offering the highest song quality just like the artists themselves would love. If all you want is the highest sound quality, then this is your best alternative to Spotify.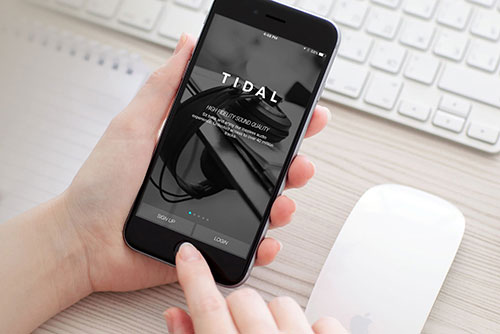 Pros:
You can get the best sound at a lower price than Spotify
There are music videos, too
The interface is intuitive and modern
Ad-free, offline playback
There are playlists imported from Spotify, Deezer, etc.
Cons:
No free subscription, only limited to Tidal Access, which is available in the US only
Pricing:
Premium - $4.7/month (standard sound quality at 320kbps)
HiFi - $9.35/month (HiFi and Master - from 1411 to 9216kbps)
#11. YouTube Music
Music industry surveys and studies often conclude that YouTube is the first place people go to listen to music online. So, why is YouTube Music in the second tier? Largely because of Google's poor track record of maintaining long-term support for such services. YouTube Music is just the latest in a long line of Google Music services that users may feel Google has burned them too many times.
As far as content goes, YouTube sometimes offers surprising examples of music content that you won't find on Spotify. But YouTube's podcast offerings aren't even close to Spotify's. YouTube Music, however, does a better job with music videos.
You may see a theme emerging here, but YouTube can't match Spotify's algorithmic recommendations or discovery features either. And, YouTube offers lower sound quality than Spotify.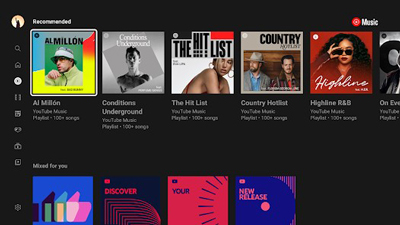 Pros:
An all-in-one video and music app
Cheaper than Spotify
Ad-free, offline listening
Cons:
Don't have sound quality tiers
The free plan cannot lock the phone without music being interrupted
Pricing:
#12. Bandcamp
When it comes to the free Spotify alternatives, some people think Bandcamp is the best one. In fact, Bandcamp users have come to refer to the app as the "anti-Spotify" in recent years. Spotify relies on third-party advertising for revenue and uses a complex formula to calculate artists' royalties. But Bandcamp does not collect any personal data from users and lets artists set their own prices. Unlike Spotify, Bandcamp also allows anyone to submit tracks to the platform.
If you have a passion for supporting independent artists who make quality music, then you'll enjoy using Bandcamp. It certainly has an exhaustive list of features and a good user experience for an app that doesn't use paid advertising. You can pre-order new albums before they become available, download files for offline listening, and see new live music streams every day.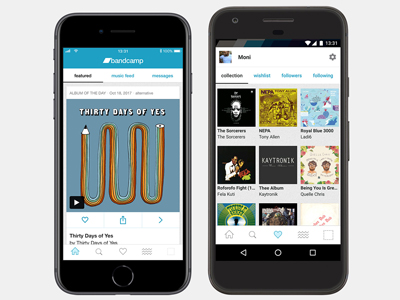 Pros:
Ad-free
User-friendly privacy policy
The purchase goes directly to artists
Cons:
You cannot create your own library
You can only offline listen to your purchases and on mobile only
Pricing:
#13. Music Up
Music Up is one of the simplest Spotify alternatives, and although it's a bit simple, it's very easy to use. It's a web-based service with genre-style radio "stations" that are basically just playlists of varying lengths. But it has a karaoke version, so no matter what you say, it belongs on that list.
One thing we really like is that the playlists are divided into different activities such as "Open Road", "Exercise", "Relaxation and Recreation", etc. You can even create your own collaborative rooms with other users and vote on the next song in the list.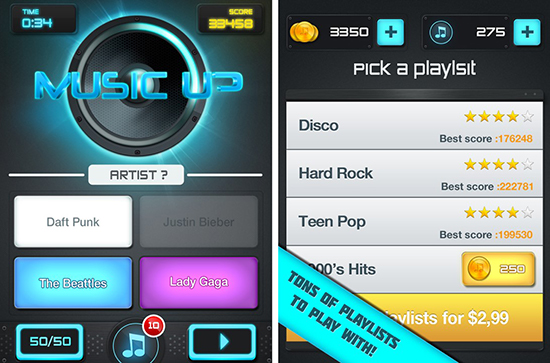 Pros:
Activity-tailored stations
Karaoke version
Cons:
Limited stations
Not many features
Pricing:
#14. Qobuz
Qobuz is both a digital music store and a high-end streaming service. Its high-definition streaming plans are cheaper than Tidal's (starting at $13 per month) and don't require a specialized decoder. If you're looking for a Spotify alternative for the "big" streaming companies, this is your best bet.
Qobuz even focuses on Hi-Res, offering a subscription service for lossless music only. Thus, the entire catalog can be found on the platform, at least in CD quality. The choice of Hi-Res content is quite important. However, as Qobuz is associated with the availability of high-resolution music, its catalog is narrower in some places than that of larger providers such as Spotify and Apple Music.
Also, fans of classical music streaming must be prepared for the fact that many of the usual features, such as recommendation algorithms and dynamically created playlists, are not available.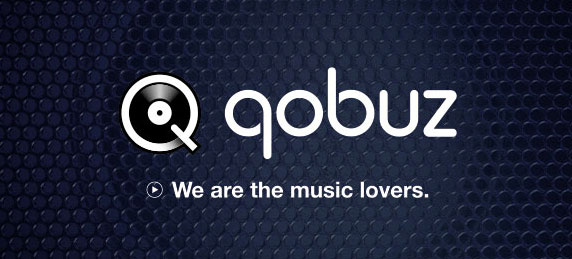 Pros:
Has music magazine
Lots of information about music
Associated download shop
Cons:
Few extras
No recommendation algorithm
Pricing:
Free
Studio - $10.83/month
Sublime - $15/month
Studio and Sublime Duo - $14.99/month
Studio and Sublime Family - $17.99/month
#15. iHeartRadio
iHeartRadio is one of the most memorable names in all music streaming services. iHeartRadio's one of the main strengths is live radio. For example, you can stream New York Yankees baseball games on ESPN Radio through the iHeartRadio mobile app on your Android or iOS device.
iHeartRadio has a huge selection of radio stations, news, podcasts, talk shows, and of course music playlists by genre. They even have some cool partnerships with artists like Usher who hosts the iHeartRadio Music Awards.
You can listen to iHeartRadio without creating an account, but you'll have to put up with the ads. If you upgrade to the paid version, you can enjoy unlimited skips, offline listening, and the ability to save your playlists.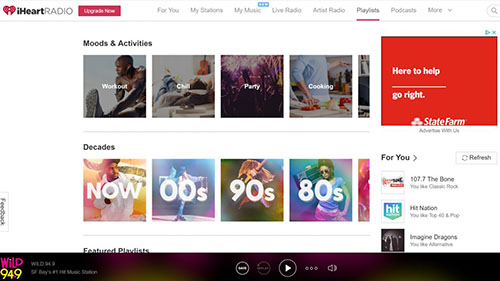 Pros:
Informative news articles and event listings
Many live and curated artist streams
Available for podcasts
Cons:
Unable to rewind live radio
Lacks videos and Hi-Res audio track
Pricing:
Free
iHeartRadio Plus - $4.99/month
iHeartRadio All Access - $9.99/month
Comparison Table of the Top 15 Alternatives to Spotify
| | Free Trial Period | Music Library Size | Maximum Bitrate | Offline Listening | Podcasts | Music Videos |
| --- | --- | --- | --- | --- | --- | --- |
| Slacker | 30 days | over 20 million songs | 320kbps | ✔ | ✔ | ✘ |
| Deezer | 30 days | over 90 million | 1,411kbps | ✔ | ✔ | ✔ |
| Google Play Music | 30 days | 50 million | 320kbps | ✔ | ✔ | ✔ |
| JioSaavn | 3 months | 100 million | 320kbps | ✔ | ✘ | ✔ |
| Apple Music | 3 months | over 90 million | 256kbps | ✔(Mobile only) | ✔ | ✔ |
| Pandora | 14 days | 50 million | 192kbps | ✔ | ✔ | ✘ |
| Grooveshark | 30 days | 15 million | 320kbps | ✔ | ✔ | ✘ |
| SoundCloud | 30 days | over 150 million | 320kbps | ✔ | ✔ | ✔ |
| Tidal | 3 months | over 80 million | 1,411kbps | ✔(Mobile only) | ✔ | ✔ |
| YouTube Music | 30 days | over 60 million | 320kbps | ✔(Premium and mobile only) | ✔ | ✔ |
| Bandcamp | Free | over 5 million albums | 250kbps | ✔ | ✔ | ✔ |
| Music Up | Free | over 20 million songs | 256kbps | ✔ | ✔ | ✘ |
| Qubuz | 30 days | 70 million | 6,917kbps | ✔(Mobile and desktop) | ✘ | ✘ |
| iHeartRadio | 30 days | over 20 million songs | 128kbps | ✔ | ✔ | ✘ |
This is our summary of the 15 best Spotify alternatives. While some are similar to Spotify, others have completely different interfaces and features. Therefore, you have enough variety to find something you like. If you're looking for a cheaper alternative to Spotify (that offers similar features), you might consider Tidal. If you're looking for a free Spotify alternative, go with Bandcamp, Music Up or Deezer.
No matter what streaming music platform you decide to choose, you probably need to transfer your Spotify playlist to it, right? So we are here to provide you with a professional tool that helps you transfer Spotify playlists to Deezer, YouTube Music, Tidal, etc.
What you need is AudFree Spotify Music Converter. It allows you to download Spotify playlists, songs, albums, and podcasts as local files. Also, you can choose to convert Spotify playlists to MP3 or any other common formats. Once downloaded, you can easily upload them to your new streaming music service. You'll be able to listen to them even without Spotify.