How to stream Tidal on Xbox One? Most of the game enthusiasts like to listen to their private music playlist while playing games. Currently, you can choose your favorite tracks and play background music on Xbox One via Spotify, Pandora, etc. which you can find in the Entertainment menu on your Xbox One. Due to the incompatibility of Tidal and Xbox One at present, it is not available for us to set Tidal as background music app on Xbox One.
Nothing is impossible in this world if you try to find it with effort. That is why I have found a useful software, which is able to help you listen to Tidal on Xbox One without any hassle. In this article, I am going to give you a particular introduction to this lovely tool.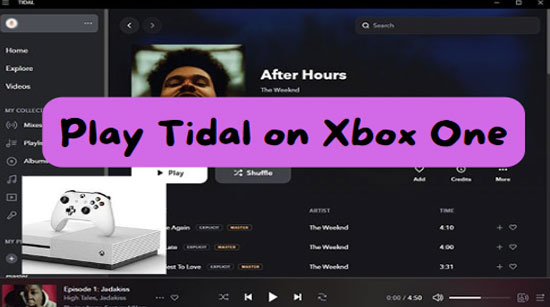 Part 1. What You Need to Use Tidal on Xbox One
Xbox One supports players to add local music to it via USB thumb drive, though this method seems a little bit outdated. Therefore, it is very necessary for us to download Tidal music as local music files, so that we can enjoy these high-quality tracks as background game music on Xbox One.
For the time being, what you need in urgent is a functional tool to download Tidal for Xbox One's playback. Here, we strongly recommend AudFree Tidal Music Downloader to you, which is perfectly compatible with the latest Tidal app. As the pioneer of Tidal music conversion, this smart software focuses on decrypting and recoding Tidal DRM music to MP3, FLAC, WAV, AAC, M4A, M4B and many other common formats as local audio files, with 100% original quality preserved.
Part 2. How to Get Tidal Music on Xbox One
With the cutting-edge technology, AudFree Tidal Music Downloader enables you to convert more than 100 songs at once, downloading Tidal streams at a fast speed (up to 5X speed). This intelligent tool can not only download Tidal tracks but also podcasts, audiobooks, and radio from Tidal with 100% complete metadata, such as tags of artist, album, title and so on. It is very convenient for you to organize the local playlists as you need. Let's see how to get Tidal on Xbox One
Step 1

Drag and paste Tidal tracks and playlists to AudFree

Please make sure that you have downloaded the Tidal app from the official website (not from Windows Store). Then download and install AudFree Tidal Music Downloader. Launch it and the Tidal app will be opened automatically. To add Tidal songs to AudFree, please find the tracks or playlist you like on the Tidal app. Next, please copy the link by clicking the '…' icon next to the song or playlist. Choose to 'Share' > 'Copy Track Link' or 'Copy Playlist Link', and then paste the URL to the search column in the main interface of AudFree. After that, Simply check the '+' button. A few seconds later, all the songs in the playlist will be loaded to AudFree.
Step 2

Redefine Tidal output format and other parameters

It is allowed to manually modify the output format before conversion. You are able to hit the 'AudFree Tidal Music Downloader' option on the menu bar if you are a Mac user. And when you are using a Windows computer, you can find the 'menu' icon on the top right corner of AudFree's main page, and then click to the 'Preferences' > 'Convert'. Later, a new setting window will pop up. Here, it is supported to reset the output audio quality by altering the format, sample rate, bit depth, channel, etc. If you want to get the original Tidal music quality, you should choose 'Format' as FLAC/WAV, 'Sample Rate' to 48000 Hz, 'Bit Depth' to 16 bit/24 bit.
Step 3

 Download and convert Tidal tracks as local files

Now, simply tap to the obvious 'Convert' bar at the lower right corner on the main page. In an ideal situation, the program will run at a 5X faster speed to remove protection from Tidal songs and download those tracks into the output formats that you set before. The conversion duration based on the number of songs that you added to AudFree. When the conversion ends, a red spot showing numbers of songs will be prompted on the 'Converted' icon. Please press it to locate the target folder where all converted Tidal streams stored in.
Step 4

Add local Tidal music files to Xbox One via USB drive/portable player

The Xbox is capable to play local audio files from your flash drive or any portable media player such as iPod, etc. Please create a music folder in your USB, naming it 'Tidal Music' will help you find it much easier. Next, add your local Tidal music files to the folder, and then connect the USB to your Xbox One. It is not available for you to put as many tracks as the drive can be saved to Xbox One, for the reason that the upper limit of input songs is 200. With the support of AudFree Tidal Music Downloader, you can download and enjoy Tidal music on Xbox One for background music playback when playing games.