If you have searched 'Tidal' on the Galaxy App Store, you would find that Tidal app is now available on Samsung Gear S3. Yes, to let Samsung watch users get more streaming music service options, Samsung wearables are fully compatible with the new Tidal app, including Gear S3, Gear Fit 2, Galaxy Watch, Gear S2 and Gear Sport.
With the highlighting Tidal workout playlists, Samsung Gear S3 could be a sweet fitness partner, with which you can listen to powerful playlists to keep you moving on. Now, let's see how to play Tidal music on Samsung Gear S3 with Tidal Premium. Meanwhile, we will also introduce a way to listen to Tidal playlists on Samsung's wind array of wearables for free.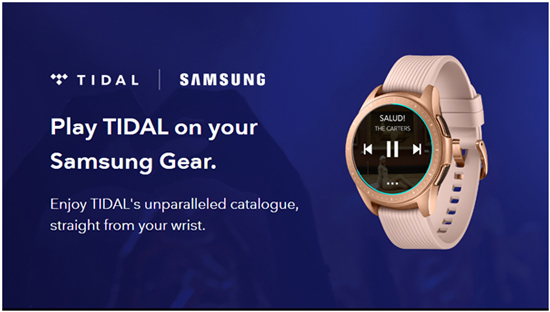 Part 1. Use Tidal on Samsung Gear S3 via Tidal App
With building the long-term partnership between Tidal and Samsung, you can straightway install and set up the Tidal watch app on the current-generation Samsung wearable devices, including Samsung Gear S3. It endows you the ability to access the whole Tidal music library, explore Tidal's catalog and playlists and download Tidal music for offline listening. If you are a fitness-minded Gear user, Tidal has special workout playlists for fitness person.
It's important to note that you will be required to subscribe to Tidal's premium subscription. If you sing up Tidal music streaming service through Samsung Gear S3, the good news is that you can get Tidal for free for three months. Please make sure your Tidal Premium didn't expire and then follow the below tutorial to use Tidal wearable app on Samsung Gear S3.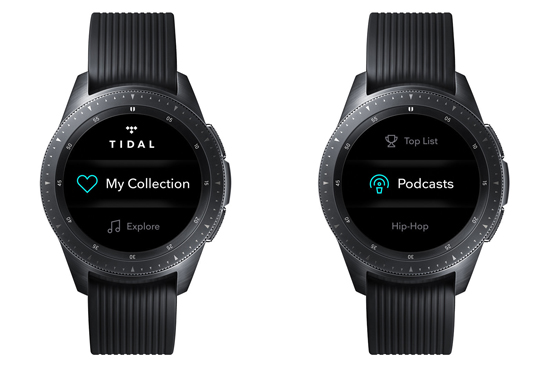 Set Up Tidal on Samsung Gear S3
Step 1. Please open the Galaxy App Store on your mobile phone. If not installed, please do it first.
Step 2. And then just search for the 'Tidal' in the search bar or just scroll down to 'Tidal X Gear' to find Tidal wearable app.
Step 3. Just tap the 'Install' and 'Accept and Download' to install this Tidal app and it will be on your Samsung Gear S3.
Play Tidal Offline on Samsung Gear S3
Step 1. Go back to your Samsung Gear S3 and the main interface to find Tidal app.
Step 2. Just launch Tidal app on your Samsung Gear and it will pop up a window saying the code to link Tidal to your device.
Step 3. Now, visit link.tidal.com on your device to log in your Tidal account and enter the code.
Step 4. There are four options for your choice, including 'My Collection', 'Explore', 'Workout', 'Search' and 'Settings' to access to Tidal.
Step 5. Just choose 'My Collection' to listen to Tidal playlists, tracks, albums, artists and even downloaded Tidal music on Samsung Gear S3.
Part 2. Play Tidal on Samsung Gear S3 without Premium
It's easy to get Tidal work well on Samsung Gear S3 with the assistance of the Tidal app with your Tidal subscription. But what should you do when you don't have a Tidal paid account when it comes to playing Tidal music on Samsung Gear wearable? Actually, there is also an easy solution to make it possible. Let me show you here.
It's well known that Samsung Gear watch allows you to transfer music from your phone to the Gear S3 for playback via the Music Play on it. So, we can just use AudFree Tidal Music Downloader to download Tidal music offline and convert Tidal to MP3, FLAC, WAV, AAC, or other Gear compatible audio files with the free trial of Tidal Premium. After that, you just need to transfer offline Tidal playlists to your mobile phone and sync them to your Samsung Gear S3 via the Samsung Gear app.
How to Convert Tidal Music for Playing on Samsung Gear
The following tutorial will guide you to download Tidal music as Samsung Gear compatible audio files and upload them to the Gear app for listening to them on the Gear S3.
Step 1

Load Tidal playlists to AudFree Tidal downloader

AudFree Tidal Music Downloader needs to work well the Tidal app. So please install the Tidal desktop app on your computer in advance unless you will receive a notification to require you to do this. And then you can discover Tidal music and click the item to tap the 'Share' > 'Copy Tidal Track' option. Now you can paste the Tidal link to the search box to add Tidal music for downloading.
Step 2

Customize Tidal output settings for Samsung Gear

Just click the top menu at the top-right corner of the main interface on the PC or tap the 'AudFree Tidal Music Converter' from the Apple's menu to choose 'Preferences' > 'Convert' to open the setting window, in which you can define the output format as MP3, FLAC, WAV, AAC or other Samsung Gear S3 compatible audio files.
Step 3

Download and convert Tidal for Samsung Gear S3

The last step is to touch the big 'Convert' at the button-right corner of the main interface and this professional Tidal playlist downloader will start to download and convert added Tidal playlists to common audio files at 5X faster speed. By the way, to keep the conversion process more stable, 1X is recommended.
Step 4

Transfer Tidal music to the Gear S3

After you have synced Tidal music to your mobile devices, please click the 'App' icon to navigate to the 'Samsung Gear' app and launch it. Then touch the 'Settings' > Send Content to Gear' > 'Select tracks' to select Tidal tracks that you'd like to transfer to Samsung Gear S3. Now, please press the 'Home' button to touch a music player to play the Tidal music stored on your Gear S3 without the Tidal Premium.