With over 236 million free users and 195 million premium users, there is no doubt that Spotify stands out as the most popular streaming service. It supports Spotify Web Player, desktop client app and mobile Spotify app for all users to access Spotify library on Windows, Mac, iOS, Android, etc.
Speaking of Spotify music exploration, one of the most important points is listening to music easily. Since offline Spotify songs come in handy in any situation, today, we'll talk about how to download songs on Spotify for offline listening on different situations. Also, here are some useful tips for using Spotify music downloads.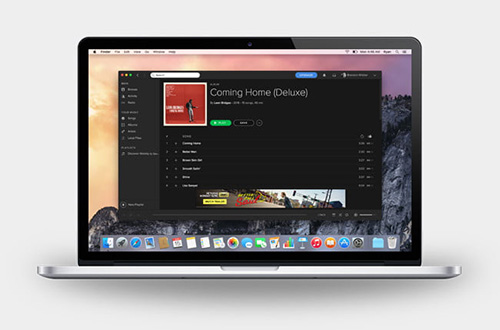 Part 1. Preparations to Download Spotify Songs
In order to download songs, albums, playlists, etc. from Spotify to your computer or mobile device smoothly, you need to make sure of the following elements.
✔An available Spotify premium account
✔ A stable Internet connection or mobile data
✔ Installed Spotify app on your PC or mobile
Part 2. How to Download Songs on Spotify on Phone
Once you have fully satisfied the above conditions, you can start the download process on Spotify. Here are two ways to download music from Spotify on mobile devices, one is via WiFi, and the other is using mobile data. Just follow the simple guide below to learn how to download songs on Spotify on android or iPhone devices.
How to Download Spotify Music on Android/iPhone
Step 1. Run the Spotify app on your Android or iPhone device and sign in to your Premium account.
Step 2. Click on the "Your Library" option in the bottom right corner of the main screen and select the playlist or album you want to download.
Step 3. Now, you will see a "Download" button under the playlist item. Click it to make it switch to green to download the songs in that playlist or album.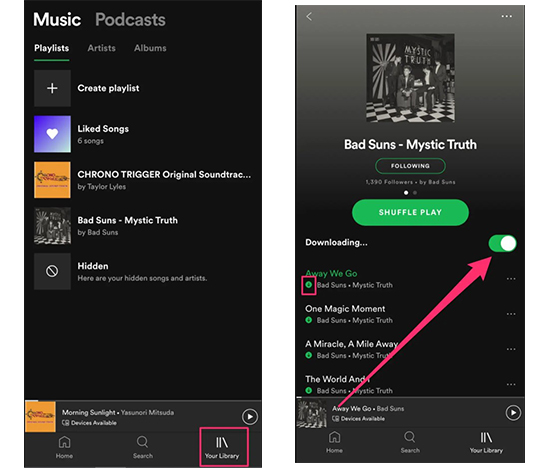 How to Download Music from Spotify on Mobile Data
Step 1. Open the Spotify app and click Home at the bottom left.
Step 2. Navigate to Settings > Audio Quality on the top right.
Step 3. In the Download section, enable "Download using cellular".
Step 4. Now you can follow the same steps as above to download Spotify music on mobile data.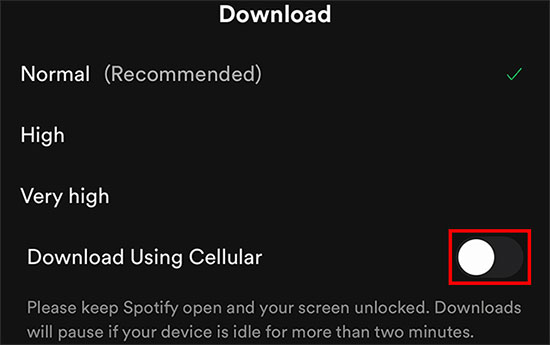 Note: To approach the downloaded Spotify songs, simply click on Your Library and select the Downloaded filter button at the top.
Part 3. How to Download Music on Spotify on Computer
We all know that Spotify offers its own software for all users to discover and play Spotify music. But when it comes to downloading Spotify songs, it's important to note that there is no Download button on the Spotify web player. Now you can use the Spotify app on your Mac or Windows computer to download music from Spotify to computer.
StepOpen the Spotify app on your mobile device. 1. Launch the Spotify desktop app on your computer and sign in to your Spotify Premium account.
Step 2. Search and navigate to the Spotify album or playlist you want to download offline.
Step 3. You can see that there is a "Download" button, turn it on. Now, Spotify music will be automatically downloaded as offline cache file.
Step 4. Turn on "Offline mode" and you can listen to Spotify music offline on devices without WiFi connection once the download process is over.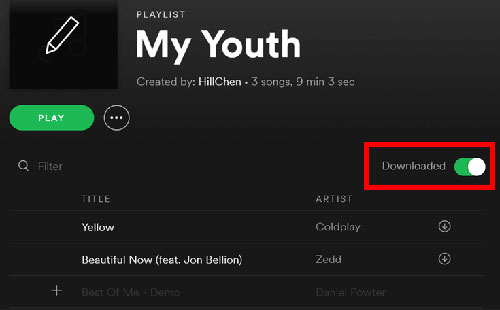 Part 4. How to Download Spotify Songs Free
Can you download music from Spotify without Premium? According to the official description, obviously, it's not possible to do this as Download option is the privilege of Spotify premium users. However, things could be different when you get a good assistant, called AudFree Spotify Music Downloader. By adopting advanced music downloading technology, it is well-designed for both Spotify free and premium users to download Spotify music, playlists, albums, playlists and audiobooks.
It's also worth mentioning that AudFree Spotify Music Converter has the ability to convert Spotify music to MP3, FLAC, AAC, M4A, WAV and M4B. Compared to the similar products, it could be put in the No.1 place as it runs at 5X conversion speed and can customize output audio quality with parameters like sample rate, bit rate, channels, etc. Then you can smoothly download Spotify songs without premium and in turn enjoy them offline on any device without limits.
Step 1. To download Spotify music and playlists with this tool, please upload them firstly by dragging and dropping Spotify songs to the main interface. Alternatively, you can copy and paste the URL of Spotify music to the address box and click the '+' button to load them.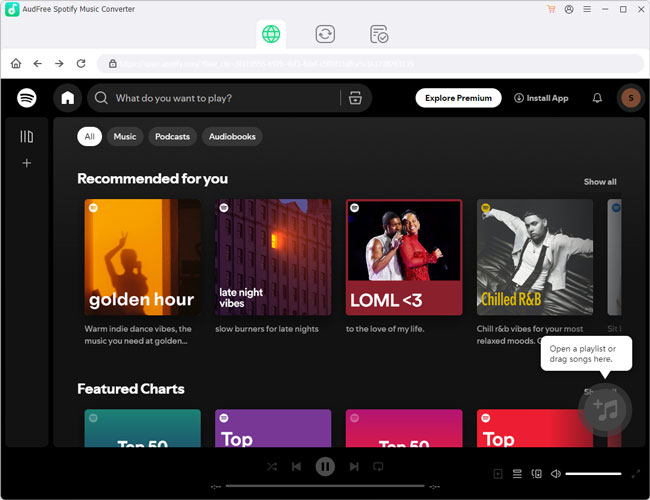 Step 2. To set the output parameters of the downloaded Spotify music, please navigate to the Preferences > Convert bar. Here, you can define the output format, bit rate, sample rate, bit depth, etc. of Spotify tracks to enjoy high quality Spotify song downloads.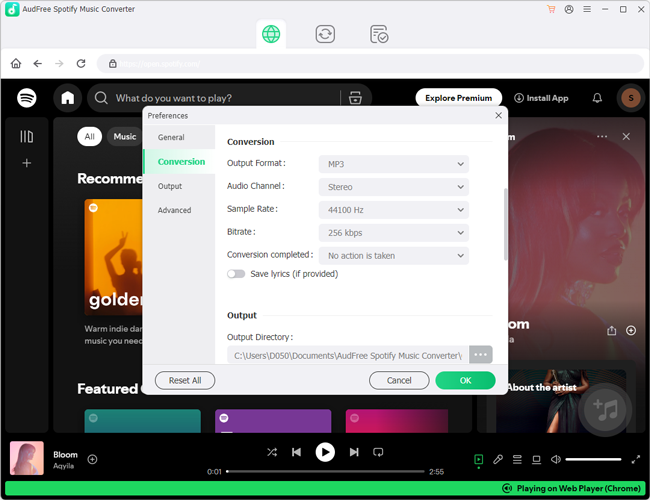 Step 3. Simple press the 'Convert' button, AudFree Spotify Music Converter will start to download Spotify songs to MP3 with original sound quality maintained. Then you can get Spotify music free downloads on your computer locally for offline listening on all devices.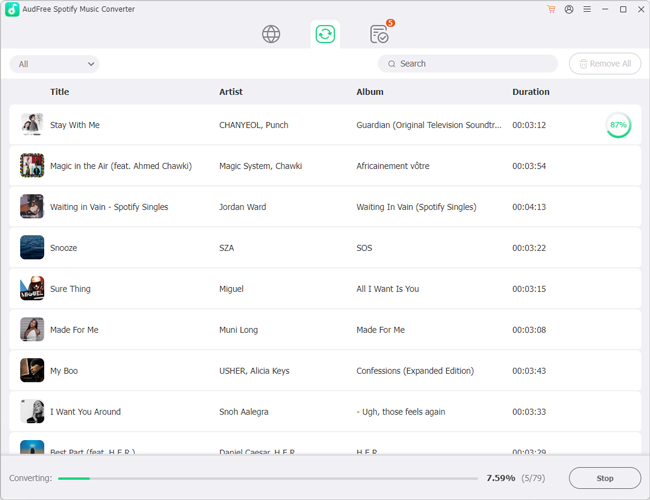 Video Demo: How to Download Music from Spotify without Premium
Part 5. Other Workarounds to Download Spotify Music
Here are some available ways to download playlists, albums or podcasts from Spotify that users are very curious about.
How to Download a Song from Spotify
The regular methods listed above are not possible to download single songs on Spotify. You will only find a Download button next to an entire album or playlist, not individual songs. However, there is a workaround that allows you to download individual songs on Spotify. You can simply add the individual Spotify song to a new playlist, then it's easy to download that playlist.
Alternatively, AudFree Spotify Music Converter is also a good option. You can use it to batch download and convert each song from playlists and albums to a local folder on your computer.
How to Download Podcasts on Spotify
In fact, both Spotify free and premium users can approach the podcast library and download favorite podcasts and shows easily. Here, we'll take a mobile device as an example, you can follow the steps below to learn how to download Spotify podcasts offline on your phone.
Step 1. Open the Spotify app on your mobile device.
Step 2. Select any podcast you want to download and click on the "..." icon.
Step 3. Tap the "Download" button that appears, after which you can hit "Your Library" to find the downloaded Spotify podcast.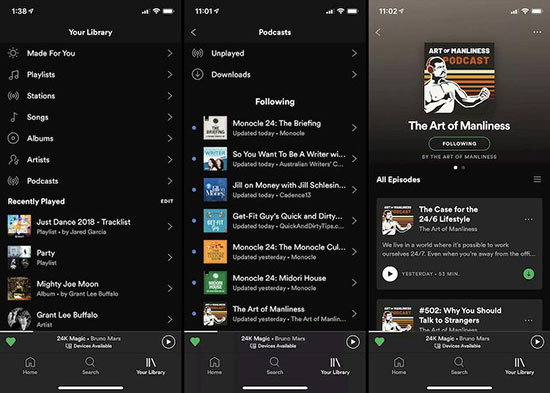 How to Download Songs from Spotify to Watch
As smartwatch features are improved and developed, it is playing a more important role in people's modern life. So is it possible to play high quality Spotify music on your watch anytime and anywhere? Of course, Spotify is available for many smartwatches, such as Apple Watch, Realme Watch, OPPO Watch and so on. For your convenience, here we will show you how to play Spotify on Apple Watch.
Step 1. Open the Watch app on your iPhone and navigate to 'Available apps' to install the Spotify app.
Step 2. Tap the 'Spotify' icon on your Apple Watch and sign in to your premium account.
Step 3. Go to your Spotify library, select your favorite Spotify songs and choose the Download to Apple Watch option.
Step 4. Once the download is complete, you can simply listen to Spotify music offline on your Apple Watch.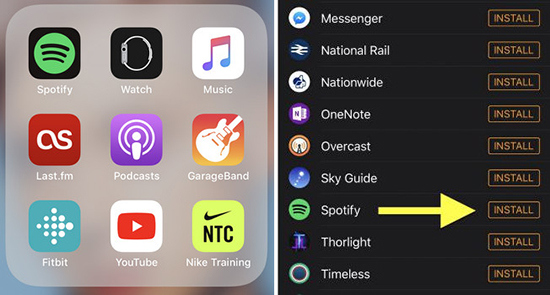 Part 6. Pro Tips for Spotify Music Downloads
Spotify Download Limit for Premium Users
Even if you download songs on Spotify through the official methods, you will still encounter some inevitable limitations. Here are the things you need to be aware of.
1. Spotify song downloads can only be listened to in the Spotify app.
2. Spotify allows premium users to download up to 10,000 songs per device, on up to five devices.
3. You need to go online with Spotify at least once every 30 days, otherwise you will lose access to Spotify music downloads.
4. Once you cancel your Spotify premium subscription or your subscription expires, those downloaded Spotify content will not be accessible.
See Also: How to Bypass Spotify Download Limit
Best Settings for Spotify Song Downloads
There are five audio quality settings for streaming and downloading, i.e. Auto, Low, Normal, High, and Very High. Generally speaking, the higher the quality of the downloaded songs, the more storage space it will take up.
If you want to get a better Spotify listening experience, it is recommended that you choose to download songs from Spotify in High or Very High quality. Conversely, if you don't care about audio quality or your device is short of space, you're better off downloading songs in Low or Normal quality.
Part 7. How to Save Storage for Spotify Song Downloads
Downloaded Spotify music generally takes up more space on your device. In this case, your device is likely to run out of space or the program will run slowly. Based on this, you can delete some unwanted songs you downloaded previously or set a limit on Spotify cache size to solve the problem.
How to Delete Downloaded Songs on Spotify
Step 1. Open the Spotify app on your phone and tap Your Library in the bottom right corner.
Step 2. Select the downloaded album, podcast, or playlist you want to delete.
Step 3. Click on the Download icon that appears.
Step 4. It will pop up a window asking if you want to delete the download, select the Remove button.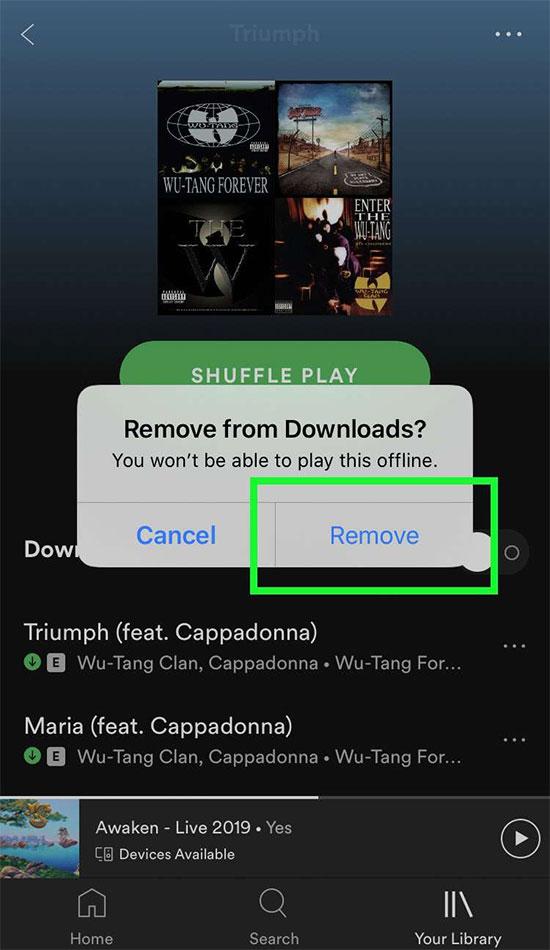 How to Limit Spotify Cache Size
Step 1. Click the Go and Go to Folder options on the Mac menu bar.
Step 2. In the search bar that pops up, select "~/Library/Application Support/Spotify/prefs".
Step 3. Open the prefs file in TextEdit and add a new command such as "storage.size=500", which means you are limiting the Spotify cache to 500MB. You can also enter other numbers to suit your needs.
Step 4. Click the File and Save button, then the Spotify cache will be reduced to the specified size.

Part 8. Conclusion
In brief, here are exhaustive methods about how to download music on Spotify as well as some effective tips to use Spotify song downloads. Just follow this article to get your favorite songs from Spotify, whether you are a premium user or a free user. If you have any other queries about playing Spotify music offline, please do not hesitate to leave a comment in the comment section.